The Thekla Archives: 2017
Barry Adamson, DHP Presents: Barry Adamson
Wednesday 26th April 2017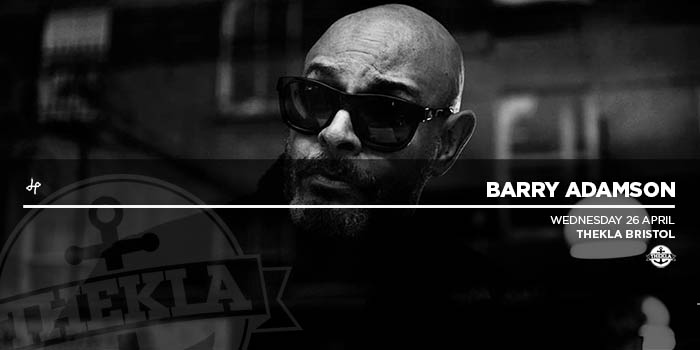 Multi-disciplined and self taught musician, Barry Adamson is set to release his new solo studio album, Know Where To Run, on February 19, 2016. The album will be available as a download, on CD and vinyl on the aforementioned dates with a special edition photo book to follow later on in 2016.
Barry Adamson has been creating all of his life. He rose to prominence as the bass player in Magazine and toured extensively. His establishment as a solo artist came after a three year stint with Nick Cave and the Bad Seeds and heralded the release of his seminal first solo album, 'Moss Side Story'.
Critically acclaimed, it raised Adamson's name as a composer of diverse complexity; ab
...
le to tell a story with music, where the images were those supplanted in the minds of the listeners. Offers quickly followed and saw Adamson work with some of the film industry's most intriguing mavericks including Derek Jarman, David Lynch, Oliver Stone and Danny Boyle.

Having released nine studio albums, including the 1992 Mercury Music Prize nominated 'Soul Murder', Adamson has continued to tour globally with his talents being in as much demand by new generations of artists, as he was after his first solo release.

Earlier this year Barry returned to the studio to begin recording the aforementioned soon to be released new solo album, Know Where To Run, which shows him embracing all of his diverse influences into a more commercial undertaking.

Produced by Barry and recorded at Church Road Recording Company, Brighton with old cohort Paul Pascoe, while additional production and mix was handled by WTNSS at Dean Street Studios. The idea behind the album and accompanying photo book came when Barry began taking photos during a tour of the U.S. and Canada with Nick Cave and the Bad Seeds.

Constantly sought across all art forms for commentary and contribution, Barry's music has been used for documentaries, TV series, adverts, computer games and even an Olivier Award winning ballet performance by Sylvie Guillem and the Ballet Boyz.

It was always a logical progression for Adamson to move behind the camera and once again his brooding film noir style and dark comedy has seen him write, direct and score a number of short films. His latest offering, 'The Swing The Hole and The Lie', being shown at the Cannes Film Festival this year.

Rising phoenix like from the flames of his previous work, Adamson continues to push himself and blur the lines of film, music and art.

WEDNESDAY 26 APRIL

THEKLA BRISTOL
The Grove, Bristol BS1 4RB
Doors 7:00pm
Ages 14+

Advance tickets available from:
www.alttickets.com
www.gigantic.com


www.bristolticketshop.co.u

k
Comments