The Thekla Archives: 2017
Cabbage, MJR Group presents: Cabbage
Saturday 18th February 2017
Supported by:

The Shimmer Band, April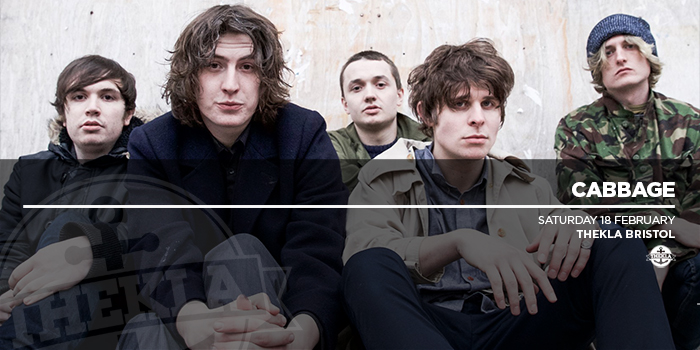 Manchester based five piece Cabbage, serving up an idiosyncratic, satirical attack in the form of discordant neo post-punk.
With a collective desire to express themselves creatively, artistically, and in a semi rebellious - but ultimately meaningful nature - Cabbage are here to fight for all that's good. Oliver Rodrigues in 1825 said: "The power of the arts is indeed the most immediate and fastest way to social, political and economic reform," and Cabbage join and submerge in that struggle and inevitable victory.
On Friday 30th September Cabbage released their new four-track EP 'Uber Capitalist Death Trade' on James Skelly's Skeleton Key Records, the original home of Bl
...
ossoms and home of She Drew the Gun. The EP is the first of three upcoming EP releases by the hotly-tipped Manchester five-piece, with the second EP due next month. 'Uber Capitalist Death Trade EP' follows the recent single 'Dinner Lady', released as a 7 inch on Tim Burgess's Ogenesis Recordings.

Cabbage are Lee Broadbent (lead vocals), Joe Martin (vocals, guitar), Eoghan Clifford (guitar), Stephen Evans (bass) and Asa Morley (drums). With "the black humour of Buzzcocks, the surrealism of Happy Mondays, the haircuts of various Stone Roses" (i-D), Cabbage are a semi-controlled riot of tunes, energy and opinions. NME described their debut EP 'Le Chou' as "five twisted post-punk slinkers stuffed with explicit lyrics and Jack White levels of rage" while The Guardian suggested that "they're hell-bent on filling the current vacancy for rock'n'roll commentator on Brexit Britain."

Support from:

THE SHIMMER BAND
www.theshimmerband.com

APRIL

SATURDAY 18 FEBRUARY

THEKLA BRISTOL
The Grove, Bristol BS1 4RB
Doors 7:00pm
Ages 14+

Advance tickets available from:
www.alttickets.com
www.gigantic.com


www.bristolticketshop.co.u

k
Comments