The Thekla Archives: 2016
Frank Hamilton, DHP Presents: Frank Hamilton
Thursday 15th December 2016
FRANK HAMILTON
www.frankhamilton.co.uk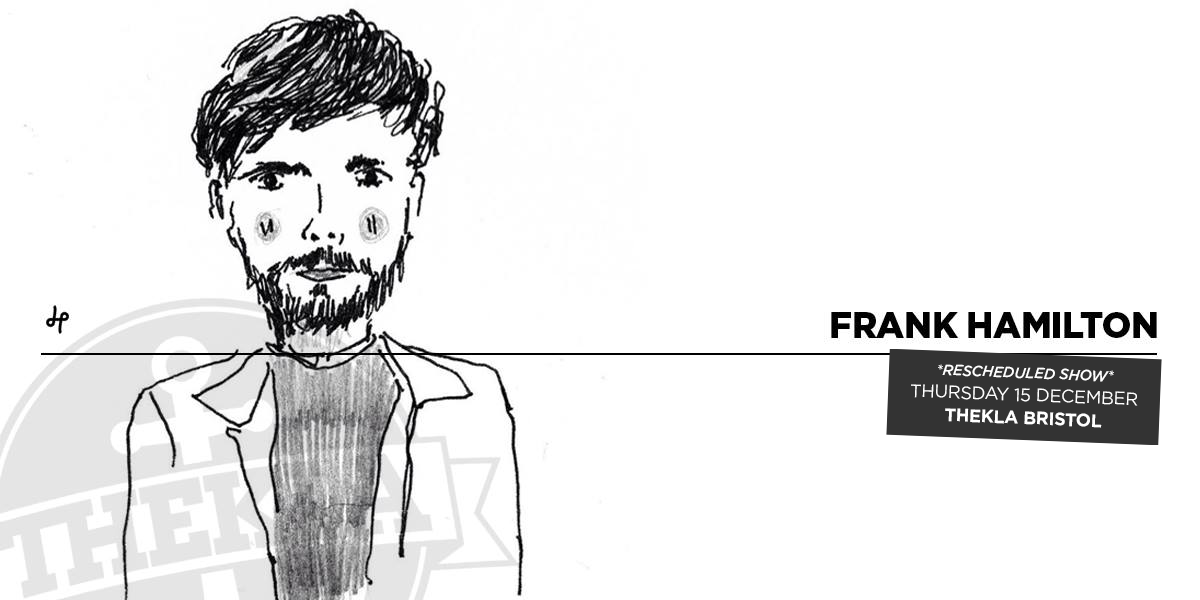 "My 2nd album, 'Songs To Make Life Slightly Less Awkward', has been delayed until September... and the accompanying tour dates have been postponed until December.

Please note: all existing pre-orders and gig tickets will remain valid for the rescheduled dates. (If you can't make the rescheduled dates then you can get a refund from you point of purchase).

Naturally, I'm a bit gutted about it - mostly for those of you who've pre-ordered the album and bought tickets... but also for me because I bloody love this record and want the world to hear it already!

That said, it wasn't a tough decision. I've spent such a long while gearing up for this album and I'm convinced it's my best work to date, so the choice to delay a few months and get things right is the only choice worth making.

I hope you understand and aren't too disappointed. On the plus side, the tour has now become a 'Crikey, It's Christmas!' tour... which means festive songs and fake snow by the bucketload! :)

I'll also be releasing a free EP on June 17th, the day the album was due to be released... so keep an eye out for that on www.SongsToMakeLifeSlightlyLessAwkward.co.uk

Speak soon and as always, thanks for existing.
Frank Hamilton is a British singer/songwriter/producer best known for his#OneSongaWeek project in which he wrote, recorded and released a song a week for an entire year. The project began in his living room and ended with a #1 album on iTunes featuring co-writes with Ed Sheeran, Newton Faulkner, Lauren Aquilina and many others.

The 'Best of #OneSongaWeek' album was rush-released in December 2012 on Franks own label (with a marketing budget of £0), reaching #2 in Music Week's Indie Breakers chart. 'Flaws & Ceilings' was also chosen as iTunes single of the week, notching over 100,000 downloads and becoming one of iTunes two most popular SOTW's in 2012 (along with Emilie Sande).

Since #OneSongaWeek Frank has toured extensively, become the first person to make an EP on the London Eye in the time it takes to go round once (28 minutes), performed on TFI Friday and recorded a new album in his living room (set for release in 2016).

The Sun: "Frank Hamilton is music's very own milkman – he always delivers".

Music Week: "The Mike Skinner of Folk".

THURSDAY 15 DECEMBER
*RESCHEDULED FROM 22 JUNE*

THEKLA BRISTOL
The Grove, Bristol BS1 4RB
Doors 7pm
Ages 14+

Advance tickets available from:
www.alt-tickets.co.uk
www.gigantic.com
www.bristolticketshop.co.uk
Comments