The Thekla Archives: 2016
Seafret, DHP Presents: Seafret
Thursday 26th May 2016
Supported by:

Tom Speight
SEAFRET
www.seafret.com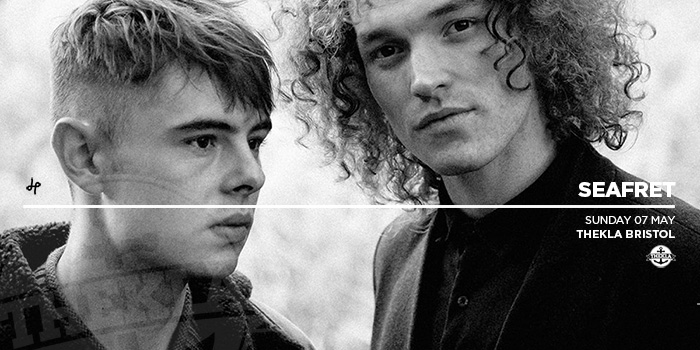 Hailing from the small town of Bridlington, Jack Sedman (vocals) and Harry Draper (guitar) aka Seafret have just released their debut album, Tell Me It's Real, at the end of last year on Sweet Jane Recordings / Columbia Records.
First meeting at an open mic night a few years ago, the two had distinctly different levels of experience. Though a few years younger, Harry Draper was an experienced local musician; Jack Sedman, meanwhile, had quite literally only just discovered his voice.

Despite this, the pair instantly hit it off. "We wrote our own songs straight out of nowhere," explains Jack Sedman. "I'd never written a song before. I loved music but had never written it. We clicked instantly. That's how we learned to write: through playing and the chemistry between us."

The name Seafret, as well as being a pun on the guitar fret board, is also a local term for the two boys; it applies to the rolling mists that come in off the North Sea during summer. Now living in London, the sea is what the duo miss the most. "When you live there you take it for granted. I never missed it before. You don't realise what it does to you when you're there."

Honest and captivating, Seafret's material has a beautifully contagious feel. Writing about life as it evolves around them, the two have a rare observational eye – though young, the world is not going to pass them by.
Support from:
TOM SPEIGHT
www.facebook.com/TomSpeightMusic

THURSDAY 26 MAY

THEKLA BRISTOL
The Grove, Bristol BS1 4RB
Doors 7:00pm
Ages 14+

Advance tickets available from:
www.alt-tickets.co.uk
www.gigantic.com
www.bristolticketshop.co.uk
Comments