The Thekla Archives: 2016
Sarah Blasko, One Inch Badge Presents: Sarah Blasko
SARAH BLASKO
www.sarahblasko.com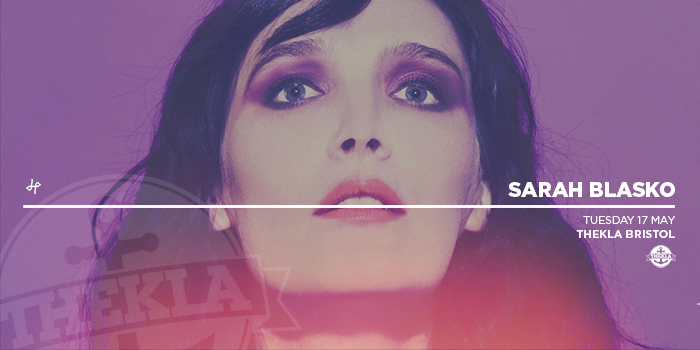 'Eternal Return' is an unabashed paean to love, and Sarah Blasko is more than happy to admit it, "I'm very open about that. It's a "love album", and it's from personal experience."
For the most part, the lyrics on the album are disarmingly simple. Blasko's words are direct, almost naked in their honesty, and poetic imagery is kept to a bare minimum. There is a conversational, first-person immediacy about the songs. They are emotionally explicit and have the ring of truth.
'Eternal Return', produced by Burke Reid and featuring collaborations with David Hunt, Ben Fletcher and Nick Wales, has a marked retro-electronic vibe throughout: "I got interested in old synths again, which I haven't been for a few years," says Blasko. "A lot of my favourite pop records are synth-based and many of my favourite loves songs are of that ilk." She names Gary Numan, Diana Ross and Michael Jackson as just a few of the album's influences, as well as Paul McCartney and Bruce Springsteen. "They were all artists that I grew up listening to. I was thinking about Tina Turner when I was singing Beyond. No-one else might necessarily hear that, but that's where I went in my head."
Despite the nostalgic influences there is nothing lightweight about either the songs or the production. Blasko and her collaborators have tried scrupulously to avoid clichés and keep everything understated. The overall effect is the poignant lyrics and ravishing melodies always take centre stage. Sarah Blasko's spectacular voice has always been one of her greatest strengths but she has never sounded better than she does on 'Eternal Return'.
TUESDAY 17 MAY
THEKLA BRISTOL
The Grove, Bristol BS1 4RB
Doors 7:00pm
Ages 14+
Advance tickets available from:
www.alt-tickets.co.uk
www.gigantic.com
www.bristolticketshop.co.uk
Comments