The Thekla Archives: 2016
The King Khan & BBQ Show, DHP Presents: The King Khan & BBQ Show
THE KING KHAN & BBQ SHOW
www.facebook.com/thekingkhanbbqshow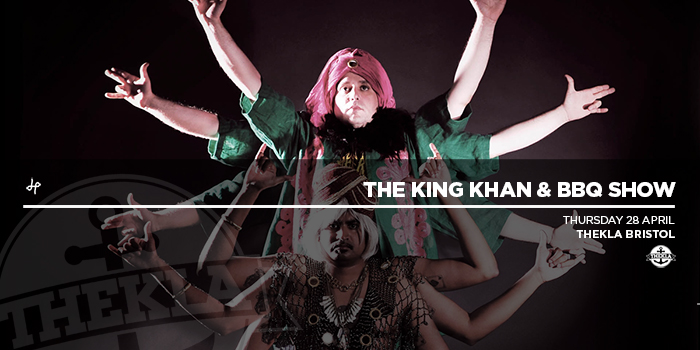 Hailing from Montreal, Canada, The King Khan & BBQ Show make exceedingly tasty garage punk, as well as having a talent for creating rib-tickling band names.
Formed out of the remnants of Spaceshifts, The King Khan & BBQ Show started life at the start of the new millennium, featuring Mark Sultan (lead guitars) and Blacksnake (vocals, guitars, percussion). After the demise of Spaceshifts, Sultan initially tried to establish himself as a solo act, yet before long he brought in former band mate Blacksnake to expand their sound.
They began writing songs whilst at Blacksnake's German home, eventually having enough material to release their self-titled debut album in 2004, on Goner Records (US) and Hazlewood Records (Europe). Subsequently, they embarked on an international tour, gaining many new fans of their distinct brand of garage punk that blended elements of doo-wop and soul. "Whats For Dinner?" followed in 2006 (Red Records), whilst they continued to gain a reputation as exciting live performers.
Their third record, "Invisible Girl," arrived after three years in 2009. The following year, Laurie Anderson and Lou Reed selected them to play at the festival, Vivid Live at Sydney Opera House, an honor for the musicians. After the show, the band went on a year-long hiatus, reforming in 2011 to begin making new music. Regular touring followed yet little new music emerged until "Bad News Boys" was dropped in early 2015.
THURSDAY 28 APRIL
THEKLA BRISTOL
The Grove, Bristol BS1 4RB
Doors 7:00pm
Ages 14+
Advance tickets available from:
www.alt-tickets.co.uk
www.gigantic.com
www.bristolticketshop.co.uk
Comments