The Thekla Archives: 2016
Mexrrissey, DHP Presents: Mexrrissey
Wednesday 13th April 2016
MEXXRISSEY
www.mexrrissey.com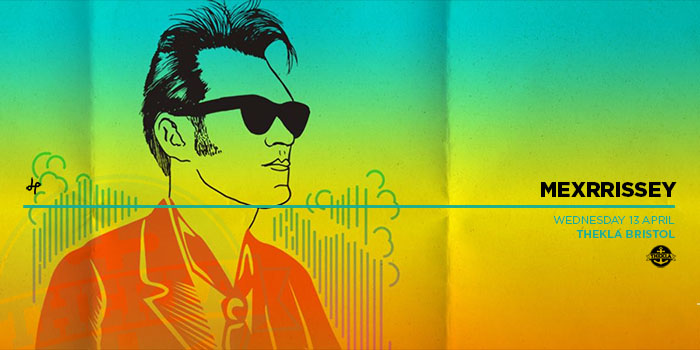 "Nothing the world holds could match the love waiting for me in Mexico City" Morrissey
In Mexico Morrissey has always been a prophet with honour. His songs of love, loss and longing, with powerful imagery and metaphors have found a huge audience and chimed with generations raised on rancheras and mariachis and their singers who were not afraid to cross the line.
Now the love has been returned, with a band made in Mexico City reinventing Morrissey's songs south of the border. Together they sound like a brass and accordion led combo from the smallest village with the biggest bleeding heart. The first of the gang is Camilo Lara, the force inside Mexican Institute of Sound, who together with Sergio Mendoza (Orkesta Mendoza/Calexico), has put together a team of musical gunslingers from Mexico's finest bands.
The band has had an incredible trajectory from a first try out show in Mexico City in April 2015 swiftly followed by a sold out mainstage debut at the Barbican in The La Linea Festival in London, a UK tour (including an emotional sold out Manchester gig) and triumphant shows at BAM in New York and in Los Angeles.
Mexrrissey has been recording its first album in Mexico City and Tucson and preparing for more shows in 2015 and 2016.
Taking us on a journey of love, loss and longing is an incredible team of big hitters from Mexico's rock and pop world, who immediately said yes to Mexrrissey's invitation. Live the band performs as a seven piece with a revolving and evolving line-up which includes underground legend Chetes (Zurtok) on guitar, Jay De La Cueva (Moderatto /Titán) on bass, Ceci Bastida (Tijuana No) on keyboards, Adanowsky on guitar, Liber Teran (Los de Abajo) on guitar, Alejandro Flores Café Tacuba's favourite violin player, Alex Gonzales on trumpet (Twin Tones), Ricardo Najera on drums (Furland), Sergio Mendoza and Jacob Valenzuela (both from Calexico) on vibes and accordion and trumpet respectively and always Camilo Lara adding his trademark sampling and electronics. Vocals are shared between four of the band who also add other flavours live from a range of traditional instruments.
Andy Wood, Director of the La Linea Festival in London approached Camilo Lara with the initial idea to put together Mexrrissey. Andy says, " It just felt like time. I had a sense of the feeling for Morrissey in Mexico and the way that his music could connect with so much in Mexican music. It was time to return the love and Camilo was the man who could round up the right posse of dirty pretty things."
Camilo takes up the story, "I always thought that there were these invisible lines between what Morrissey and Manchester represents and what Mexico City and Mexican pop culture has. And if these are tiny coincidences, we're making them a little bit bigger on this occasion with a concert of broken hearts and forgotten dreams."
Sergio Mendoza made the arrangements, "I think we took a really big risk with all these arrangements and the way we're really flipping these songs." One starting point was to either find a song with a Mexican connection or something that Camilo and Sergio could imagine recasting with a Mexican flavour. There are some obvious selections like Morrrissey's paean to the country Mexico. Another starting point was to simply select a song that they were big fans of such as Vicar in a Tutu, Everyday is Like Sunday or Bigmouth Strikes Again.
Camilo Lara says "I think for the people that know the songs (which is probably everyone!), I'm sure that they will be amazed that the songs can go into these directions of cumbia and boleros and sound actually as if they were written in that style. Though it's the words, the playful turns of phrase, and the sighs that are the trickiest to translate into Spanish. Camilo adds "We try to get a glimpse of the poetry in Morrissey's work and to capture the irony, the anger and the happiness at the same time, that has been a challenge."
WEDNESDAY 13 APRIL
THEKLA BRISTOL
The Grove, Bristol BS1 4RB
Doors 7:00pm
Ages 14+
Advance tickets available from:
www.alt-tickets.co.uk
www.gigantic.com
www.bristolticketshop.co.uk
Comments