The Thekla Archives: 2016
BBC 6 Music Festival Fringe Curated By Chiverin, Chiverin and Thekla Bristol Present: Plastic Mermaids, Little Dusty, Goan Dogs, Something Anorak
Saturday 13th February 2016
Supported by:

Plastic Mermaids, Little Dusty, Goan Dogs, Something Anorak
BBC 6 MUSIC FESTIVAL FRINGE CURATED BY CHIVERIN
www.chiverin.com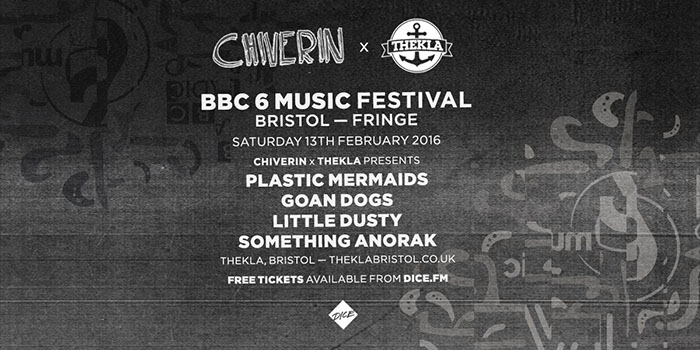 Thekla presents a weekend fringe line-up of incredible Bristol-affiliated musical talent, curated by three of the city's finest independent promoters.

Our second night is curated by the well-respected Chiverin, Saturday features PLASTIC MERMAIDS, GOAN DOGS, Little Dusty & Something Anorak.
Free tickets available from DICE FM.
PLASTIC MERMAIDS
www.facebook.com/plasticmermaids
Plastic Mermaids are a 5 piece band from the Isle of Wight who have spent most of the last year hidden away in their home studio constructing a unique style of folkedelic dream pop, escaping only for the occasional surf. Weaving together vocal harmonies and a diverse selection of instruments they create folky melodies with experimental electronic textures, that occasionally build to an epic cinematic crescendo or just as likely drift away into the soundscape.
GOAN DOGS
www.goandogs.com
GOAN DOGS' unique cinematic sound is laden with rich harmonies, infectious rhythms and a shade of the calypso sleaze. With striking visuals thrown into the mix, their atmospheric live shows have captivated audiences at packed out venues up and down the UK.

Since releasing their first EP 20 Minutes From The Border, GOAN DOGS have gone on to develop their sound with the Double A Side Never Gonna Let You Down/Nothing Like This and their latest single and video Running.

The group has picked up some glowing press from the likes of The Fly and Louder Than War, as well as airplay on BBC 6 Music and BBC Radio Bristol. They've secured slots with Maps & Atlases, Kyla La Grange, George Ezra and Zun Zun Egui among others, and played large UK festivals, including Green Man, Dot to Dot and Larmer Tree Festival.
LITTLE DUSTY
www.facebook.com/littledustyband
Drowned in Sound: "if you're into the kind of tunes that will transport you to an altogether sunnier place, they'll be your new favourites."
SOMETHING ANORAK
www.somethinganorak.com
Lo-fi duo based in Bristol in the South West of England. A sterling crop of broken guitar-laden, layered vocal-soaked numbers, vintage synths complete things for a near-perfect palette of sounds.
SATURDAY 13 FEBRUARY
THEKLA BRISTOL
The Grove, Bristol BS1 4RB
Doors 6:00pm
Ages 14+
Advance tickets available from:
www.dice.fm
Comments