The Thekla Archives: 2016
Banco De Gaia, DHP Presents: Banco De Gaia
Wednesday 23rd March 2016
Supported by:

Sophie Barker (Zero 7)
BANCO DE GAIA
www.banco.co.uk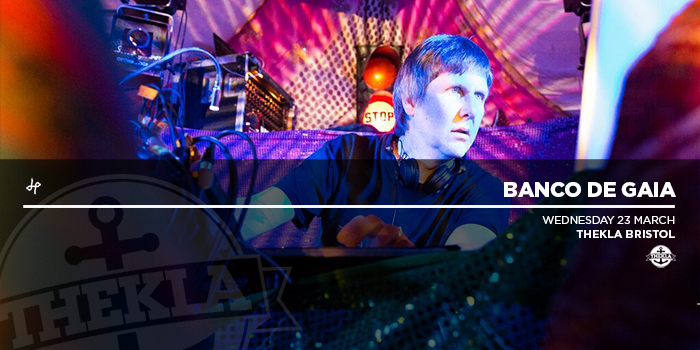 Toby Marks, the creative force behind Banco De Gaia, is one of the world's leading exponents of globally inspired eclectic electronica. Mixing electronica with acoustic instruments and vox, his work defies genre classification. He has worked with a variety of musicians including legendary saxophonist Dick Parry (Pink Floyd), Anglo-Egyptian singer Natacha Atlas, flautist Tim Wheater (Eurythmics) as well as various dance and electronica producers.
Banco De Gaia cut his teeth on the early 90s Ambient Dub compilations (a precursor of the "chill out" marketing phenomenon). In 1994 he released his first studio album Maya on Planet Dog records, and followed this in 1995 with the critically acclaimed Last Train To Lhasa. Both albums reached No1 in the UK independent charts and featured in the national album chart top 40. In the 20 years since then he has released numerous albums and EPs with the latest album, Apollo, coming out in 2013.
To celebrate the 20th anniversary of 'the one with the train on' in 2015, Disco Gecko Recordings have released a 4CD limited edition version of the album and Banco put together a live 3-piece band featuring bassist James Eller (The The, Teardrop Explodes) and drummer Ted Duggan (The Beat, Seize The Day) alongside VJ Patrick Dunn.
The band played throughout 2015, at festivals such as Glastonbury, Off the Tracks, Bearded Theory and Solfest, as well as club gigs at London's Jazz Café, Manchester's Band on the Wall, Exeter's Phoenix and more. The shows were so well received that they are continuing to play live together, with a new studio album planned for 2016.
Plus special guest:
SOPHIE BARKER (ZERO 7)
www.sophiebarker.com
You will certainly know Sophie Barker as one of the vocalists on Zero 7's Simple Things, that luscious, sweeping vocal at the forefront of the album's breakaway hit 'In the Waiting Line', which she co-wrote. For her work with Groove Armada, The Egg, Grooverider, Robin Guthrie (Cocteau Twins). Sophie released 'Earthbound' in 2004 and her first studio album 'Seagull' 2011. She is currently working on her second studio album 'Break The Habit'.
This next album has been born out of the discovery of a richer, more dynamic live sound which she has developed with her band and has a distinct West Coast influence from all her tours in the US over the past few years. This new sound has less of the lounge about it and more of a louche down tempo rock and blues with a touch of electronica. With this collection of songs, Sophie Barker is firmly parking her more mellow, reflective self for a confident woman who understands that you are what you are, regardless of your ambitions & dreams. It's time to not mind too much, let go and have some fun.
WEDNESDAY 23 MARCH
THEKLA BRISTOL
The Grove, Bristol BS1 4RB
Doors 7:00pm
Ages 14+
Advance tickets available from:
www.alt-tickets.co.uk
www.gigantic.com
www.bristolticketshop.co.uk
Comments