The Thekla Archives: 2016
Lucius, DHP Presents: Lucius
LUCIUS
www.ilovelucius.com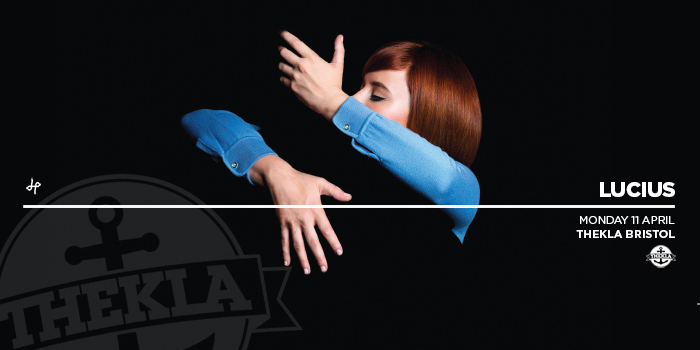 Lucius' highly-anticipated new album Good Grief will be released March 11 via Mom + Pop Music. "Born Again Teen," the first song to be revealed, premiered worldwide on Zane Lowe's Beats 1 Radio show. The track was available immediately following the premiere at ilovelucius.com.
Of Good Grief, vocalist Jess Wolfe says, "When we started writing for this record, we had been away from home for nearly two years. We had just returned from tour, having gone through such varied emotions—loneliness, sadness and exhaustion alongside excitement, fulfillment and some of the most joyful moments in our lives…Whenever one of us had an idea or a feeling, the other was already a witness to it and could help navigate through it—for the two of us, this usually came in song form." Vocalist Holly Laessig adds, "…When considering titles, we wanted to be sure to acknowledge any serious subject matter, while simultaneously allowing ourselves a comic sigh of relief from any personal turmoil. Ha! The yin and yang of the record naturally unveiled itself and, so, Good Grief."
Good Grief was produced by Shawn Everett (Weezer and The Alabama Shakes) and Lucius with Bob Ezrin (Alice Cooper, Kiss and Pink Floyd). The album was mixed by Tom Elmhirst (Adele and Beck). The new music follows the band's critically acclaimed debut album, Wildewoman, The New York Times praised the record for its "luscious, luminous, lilting lullabies," and the album was incorporated in various 2013 year end lists including, Rolling Stone, NPR and Paste.
The band is lead by its co-founders and vocalists Jess Wolfe and Holly Laessig accompanied by multi-instrumentalists Andrew Burri, Peter Lalish and Dan Molad. Wolfe and Laessig met in 2005 while attending Berklee College of Music. Since forming, Lucius has toured extensively, playing headline shows worldwide, as well as major festival appearances including, Bonnaroo, Austin City Limits, Lollapalooza, Governors Ball, and Newport Folk Festival.
MONDAY 11 APRIL
THEKLA BRISTOL
The Grove, Bristol BS1 4RB
Doors 7:00pm
Ages 14+
Advance tickets available from:
www.alt-tickets.co.uk
www.gigantic.com
www.bristolticketshop.co.uk
Comments