The Thekla Archives: 2016
The Duke Spirit, DHP Presents: The Duke Spirit
THE DUKE SPIRIT
www.thedukespirit.com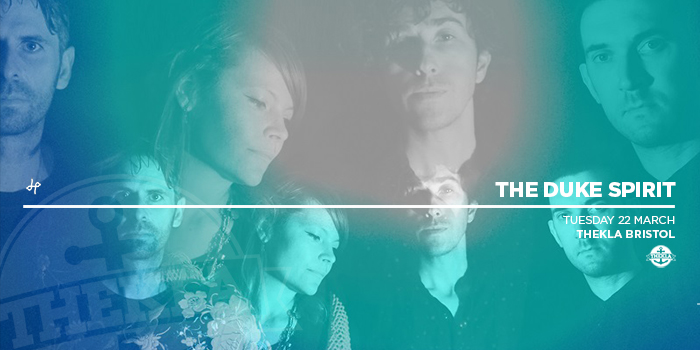 The brash, bluesy, female-fronted quintet The Duke Spirit formed when singer/harmonica player Liela Moss met guitarist/keyboardist/singer Luke Ford at art school. Moss was studying photography and Ford painting, but the pair decided to ditch school and move to London to focus on their music. Once they arrived, their friend Toby Butler joined on as bassist/percussionist, and one of their roommates, Dan Higgins, became their guitarist. When drummer Olly Betts joined their ranks, the lineup was complete. The band recorded their first 7" under the name Solomon, but switched to the Duke Spirit for the release of their first EP, Darling, You're Mean, which was released in 2003 by City Rockers. Later that year, the label released the Roll, Spirit, Roll EP, which won the band critical acclaim from the music press.
The band continued to tour and record, with the intention of releasing their debut album in fall 2004; however, City Rockers folded early that year, leaving The Duke Spirit without a home for their music. Loog signed the band soon after and released Cuts Across the Land in the U.K. in spring 2005. Startime International picked up their U.S. distribution and introduced the band to the States by releasing the album in spring 2006 and sending the band off on tour with Ted Leo & the Pharmacists. That year, the band also released the limited-edition EP Covered in Love, which featured their versions of songs by Jesse Mae Hemphill, Arthur Lee and Desmond Dekker. The Duke Spirit also worked on a collaboration with UNKLE, which they recorded with producer Chris Goss in his Joshua Tree, California studio; the track appeared on UNKLE's 2007 album.
The Duke Spirit worked with Goss again on their second album, Neptune, which arrived in spring 2008. For their follow-up, 2011's fittingly named Bruiser, the band opted for a heavier approach. Producer and Cocteau Twins mainstay Simon Raymonde helped the band with a more sensual, luminous sound for their fourth album, Kin. The first single, "Here Comes the Vapour," released late in 2015, featured guest spots from Raymonde as well as Terry Edwards.
TUESDAY 22 MARCH
THEKLA BRISTOL
The Grove, Bristol BS1 4RB
Doors 7:00pm
Ages 14+
Advance tickets available from:
www.alt-tickets.co.uk
www.gigantic.com
www.bristolticketshop.co.uk
Comments