The Thekla Archives: 2016
Tracer, Gig Cartel Presents: Tracer
Thursday 24th March 2016
Supported by:

Federal Charm, Everyday Circus
TRACER
www.tracer-band.com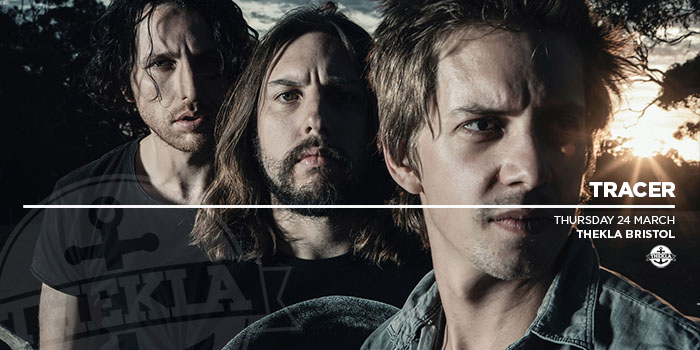 Rock'n'roll is a never-ending celebration: of life, of good times, of the healing power of overdriven guitars. But while everyone is invited to the party, only a select few are able to tap into rock'n'roll's spirit and essence. Formed just over a decade ago in Adelaide, South Australia, the mighty Tracer plainly have access to that hotline to rock's heart and soul. Over the course of two widely praised studio albums and a seemingly remorseless slew of acclaimed live performances all over the globe, this swirling firestorm trio have firmly established themselves as one of the most vital young bands around. With a sound that takes the bluesy core of the finest hard rock and welds it to a gleaming but endearingly rusted chassis of stoner rock and powerhouse grunge, Tracer grabbed the attention of the fuzzed-up cognoscenti with two early independent releases before making a bona fide, explosive entrance with 2011's Spaces In Between – a debut that made it perfectly plain that an exhilarating new force had arrived.
In 2013, Tracer released their second album, El Pistolero. Produced in collaboration with esteemed producer Kevin Shirley (Iron Maiden/Led Zeppelin/Silverchair/Joe Bonamassa), it cranked up the band's churning, desert rock vibes and showcased a lethal sharpening of their songwriting sensibilities. A triumphant trek around the planet followed, cementing the threesome's already formidable reputation as a live act and enabling them to amass a huge international army of new admirers. But at the tail-end of that tour cycle, Tracer found themselves without a record deal and with a sense of uncertainty creeping into their forward march as a result.
"At the beginning of 2014, the band that I started as a 16 year old with my brother and my best friend had taken us on a journey that many would consider a dream run," recalls singer/guitarist Michael Brown. "We had fans all over the world, we had a great team behind us, famous producers wanted to work with us and our most recent album El Pistolero made its debut at number 9 on the UK rock charts. Our relationship with our record company was reaching an end, but personally I was happy. We had control of the band back, we could choose who we worked with and what we wanted from our music. We rose with a new fire in our bellies."
The result of that newfound fire is the fan-funded and wholly self-determined Water For Thirsty Dogs, the third Tracer album and the culmination of a decade of hard work, determination and intuitive rock'n'roll evangelism that must surely propel the band to greater heights than ever before. A tour-de-force of colossal riffs, incisive melodies and brooding bravado, it builds on the jarring impact of those first two albums via an ensemble performance that verges on magical. The first Tracer album to feature new bassist Jett Heysen-Hicks, alongside Michael Brown and his drumming friend Dre Wise, Water For Thirsty Dogs crackles and thrums with excitement and a rejuvenated sense of purpose; the sound of a great band becoming greater… rewired and reborn.
"The process of writing and rehearsing these songs took place over a 4 month period," Michael explains. "The intensity picked up the closer we got to recording. From two rehearsals a week, to six days a week. All the while, Dre and I were working day jobs. Friends and families dropped by the wayside. Seeing our girlfriends was like ships passing in the night. Anything that wasn't the album was an unnecessary distraction. We were focused. Everything we had is in these songs. Our hearts and souls in every beat, note and lyric."
From the spine-tingling dynamics and rumbling grooves of its opening title track – think Nirvana reimagined by Kyuss at the eye of a psychedelic sandstorm – and the driving garage rock oomph of We're Only Animals through to the downbeat drawl and Seattle-tinged menace of Lazy, the turbocharged, bowel-rattling stoner surge of Astronaut/Juggernaut ("We were really trying to blow up speakers with bottom end with this one!" notes Michael) and the devastating emotional suckerpunch of Tremors, the album's stunning climax, Water For Thirsty Dogs is a thrilling amalgam of rock music's past, present and future, as fresh electricity is wrung from an inspired combination of immortal and unprecedented ingredients. Recorded at Echo Bar Studios in North Hollywood, Los Angeles and produced by the band themselves, in collaboration with master engineer and mixing maestro Erik Reichers, this is not just the finest record Tracer have ever made: it's a bar-raising monument to the passion and belief that continues to drive this band forward.
Both Jett and Dre are on blistering form throughout these ten new songs, locking into unstoppable grooves with preternatural efficacy while underpinning those unmistakable Tracer riffs with robust flair and insouciant cool. And above it all, Michael Brown's towering voice delivers the final piece of the sonic jigsaw, hammering those melodies and stirring sentiments with a versatility that confirms his status as one of the most distinctive and commanding frontmen of the modern era. The sum of those parts has reached optimal strength: Water For Thirsty Dogs is a rock'n'roll triumph and Tracer enter 2015 sounding ten foot tall and bulletproof and invigorated by their own creative power.
"It was incredible," says Michael, of hearing the completed new album for the first time. "It was the sound we had always had in our head for the band. The drums were loud and live, the guitars were aggressive and angry, the bass held down the low end like an elephant and I had never been happier with my voice. The songs took you on a journey, they built to climaxes, they made me cry, they made me want to pour beer on myself and party! Tremors, a love song I had written, gave me goosebumps. A feeling I had only ever felt when listening to Pink Floyds 'The Great Gig In The Sky'. It was epic and is now the crowning achievement of Tracer's career to date."
So what happens now? More shows, more hard work and determination… and more glory. Water For Thirsty Dogs does exactly what its title implies: this is the last word in life-affirming rock'n'roll refreshment and Tracer are poised to finally receive the recognition and adoration that their dogged pursuit of musical dreams fully deserves.
Dom Lawson, 2015
THURSDAY 24 MARCH
THEKLA BRISTOL
The Grove, Bristol BS1 4RB
Doors 7:00pm
Ages 14+
Advance tickets available from:
www.alt-tickets.co.uk
www.gigantic.com
www.bristolticketshop.co.uk


Comments