The Thekla Archives: 2015
DAS EFX, Sip The Juice presents DAS EFX
Wednesday 2nd December 2015
DAS EFX
www.facebook.com/DAS-EFX-183254588359866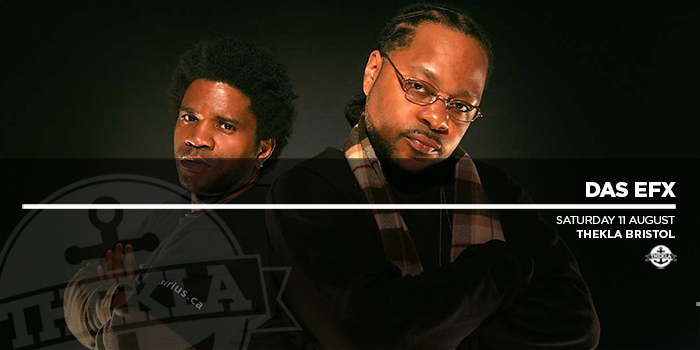 Member Skoob hails from Brooklyn, New York City while Krazy Drayzy hails from Teaneck, New Jersey but the two met at Virginia State University in 1988 and began performing together. They named themselves "Das" standing for "Drayz and Skoob" and "EFX" meaning "effects". Das EFX caught the attention of EPMD at a local talent show where, despite losing the competition, they did well enough to convince EPMD to sign them to a recording contract. The duo gained critical and commercial fame with the release of their landmark debut album, Dead Serious, which highlighted their unusual rapping style which they nicknamed "sewage".
Dead Serious went platinum and its lead single, "They Want EFX," (which contains samples from James Brown's "Blind Man Can See It" and Malcolm McLaren's "Buffalo Gals") reached the top ten on Billboard magazine's R&B chart, the top 40 on its Hot 100 Singles chart and #1 on its Hot Rap Tracks chart. Follow-up singles "Mic Checka" and "Straight Out the Sewer" did not chart on the Hot 100 but reached #1 and #3 on the Hot Rap Tracks chart, respectively.
The duo also made a guest appearance on Ice Cube's smash hit single "Check Yo Self". The song reached #20 on the Hot 100 and #1 on the Rap Tracks chart. Their refrain of "Chiggedy-check yo self before you wriggedy-wreck yo self" became a catchphrase in 1993. The song has since appeared in the videogame Grand Theft Auto: San Andreas, playing on the radio station Radio Los Santos.
From the time of their debut in 1992 to 1993, several elements of their style were adopted by other hip-hop artists, including the Lords of the Underground, The Fu-Schnickens, Kris Kross, Common and even, to a lesser extent, Public Enemy. The iggedy style was also referenced in the 1996 BLACKstreet song "No Diggity" with "diggity" meaning "doubt". This also became popular catchphrase at the time. Jay-Z's early style is described by Vibe magazine as "a distinctly Das EFX-type, stiggety style" on his 12" single "Can't Get With That", though this is the type of delivery he along with his mentor, Jaz-O, exhibited on the track The Originators in 1989.
As their career progressed, however, Das EFX's once-distinctive and unique lyrical delivery became more commonplace as other artists, including a young Jay-Z, imitated it. Derailed by the popularity of their own style, the duo slowed down their fast-paced flow, eliminated the iggedy suffix and downplayed their cartoonish content on their second album, Straight Up Sewaside. However, around the time of their third album Hold It Down (which was far less commercially successful than their debut release), Das EFX found themselves caught in the middle of EPMD's ugly breakup; it led to a three-year absence from recording. They returned in 1998 with the album Generation EFX and followed up in 2003 with the album How We Do; both were panned by critics. Das EFX continue to record and perform today to a much smaller yet devoted cult following.
WEDNESDAY 2 DECEMBER
THEKLA BRISTOL
The Grove, Bristol BS1 4RB
Doors 7:00pm
Ages 14+
Advance tickets available from:
www.alt-tickets.co.uk
www.gigantic.com
www.bristolticketshop.co.uk
Comments