The Thekla Archives: 2015
Modestep, DHP Presents: Modestep
Monday 30th November 2015
MODESTEP
www.modestep.co.uk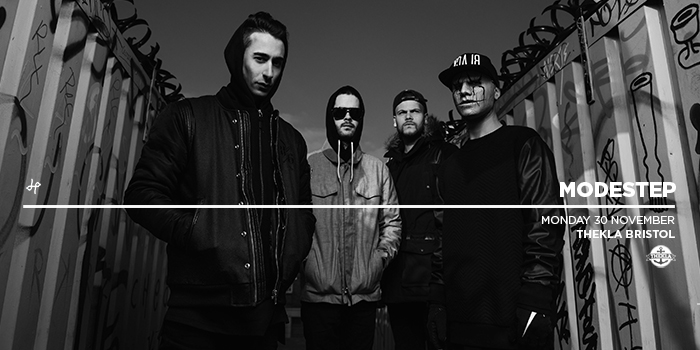 If Modestep's original chart success in 2011 was brilliantly unexpected, based on music they made "for a bit of a laugh," as they put it, can you imagine where they'll go now they've made an album they love? 'London Road', say brothers Josh and Tony Friend, is the real deal, an accurate representation of the four-piece they've become, and a passionate tribute to their home city.
"We got into this music from going out to London clubs," Josh, explains, "We were lucky enough to have that access. Now this music's blown up all over the world but it came from here, the British created this vibe from how parts of London are so darkly atmospheric. We want to push that, to show those roots."
"London is a melting pot," adds Tony, "More and more people who are into scenes, even in a purist way, are not so exclusive. Things can meet in middle – garage, drum & bass, but rock and punk too. Lots of lovers of the harder styles of electronic music come from metal…"
Modestep have also benefited from new guitarist Kyle Deek, and drummer Pat Lundy filling things out, actively contributing to 'London Road', an album that was recorded over the course of a year in a lone house out on open farmland.
"We rented a property in middle of nowhere instead of a studio," laughs Josh, "on the premise we could make as much noise as we liked."
Modestep fans will be pleased to hear that the album explodes with that noise, unafraid to mash industrial dubstep attack into Rage Against The Machine-style riffage. It also contains a who's who of collaborators, chosen not for their commercial clout, but because they're at the vanguard of the sounds Modestep love.
The opening tune 'Damien', lays down the gauntlet, operatic in intensity, with Cockney geezer actor Alan Ford (AKA Brick Top from Guy Richie's 'Snatch') fuming, "Listen 'ere, you, right. You think you can just come in 'ere and take over from something we all built together? Who the fuck do you think you are?" Produced with masked bass music DJ Funtcase, the tune is a tribute to dubstep's heritage as a sample of Ford is also used on Rosco's 2009 classic 'Cockney Thug'.
From there on the pace seldom abates. Russian-Ukrainian outfit Teddy Killerz appear on the hard blues-rock flavoured 'Make You Mine', after originally working with Modestep on 2013's 'Inside My Head' (featuring Ghetts). The two groups bonded on a trip to Russia. "They don't speak a word of English but they do speak vodka," sighs, Josh, "they made us drink tumbler after tumbler until we were both crying in the corner."
Another cut, the dancehall drum & bass thrash of 'Circles', sees ragga-metallers Skindred letting rip. "We've seen them at festivals many times," says Tony, "Their live show always blows us away, a high energy hybrid, and the track we did with them is fucking insane."
Dutch electro-hip hop duo The Partysquad pop up on the catchy, skanking 'Rainbow', a tune Modestep say is a tribute to the American party sound but dipped in London flavour. It's one of those numbers that's liable to send a festival crowd through the roof, contagious but off-the-planet danceable.
The pace changes - while still maintaining heaviosity - on 'On Our Own' and 'Sing', musical adventures where the brothers worked, respectively, with longterm musical heroes and underground dubstep legends Culprate and Trolley Snatcha, Both collaborations maintain their well-earned roots in the core of the scene.
'London Road' ends with Modestep's ballistic take on grime, collaborating with producer Rude Kid and a host of MCs such as Big Narstie, Discarda, Dialect, Flowdan, Frisco and LayZ. "That was one hectic session," recalls Josh, "All of them in one room and Big Narstie's personality counts for about 30 people all by himself. There was no space for shy people that day!"
This, then, is the album Modestep always wanted to make. The success of 'Evolution Theory' caught them by surprise. They're hugely proud of it and, while it was recorded fast and under pressure, it launched them into the A League after dabbling in music their whole lives. Tony came more from the DJ side of things, getting his first decks aged 13, while Josh was into practising the musical aspect, learning piano from age ten and in bands forever. Just before things kicked off Josh worked in the Apple Store and Tony was at university
"We were partying most days and enjoying the culture, the scene," Josh recalls, "We were really interested in sound design, in how they were making these sounds. We decided to make one or two of our own, to give it a go. We were A-listed on Radio 1 pretty much immediately. I handed in my notice at the Apple Store and two months later we were playing a sold out show in LA. It took us massively by surprise."
Indeed their debut show was at the Download Festival. They've developed a fierce live reputation since. Now, after a year and a half off stage, they promise it will be even better - "We've learnt so much more about fusing acoustic and electronic instruments that our next live show will be above and beyond anything we've done before."
Everything has clicked into place so riotously in the studio and with the new line-up, and they now have the team to support them wherever they wish to go, to help realise their vision. They've evolved into an outfit who punch hard but also have versatility. They can fit on a bill at Reading, Ultra, Download or Coachella but are equally at home beside electronic names they were listening to in the run-up to the album - Noisia, Squarepusher, Black Sun Empire, Neosignal, Nero, Justice, Amon Tobin and the like. And they can't wait to take it back onto the stage, to globally show off an album they're immensely proud of.
"'London Road' has been an amazing opportunity to get on board some of the best talent we've ever seen," concludes Tony, "and to push the boundaries of what they do, what Modestep do, and what we can do together."
Modestep are back, they're loud and they're filled with fire. Watch out, world.
MONDAY 30 NOVEMBER
THEKLA BRISTOL
The Grove, Bristol BS1 4RB
Doors 7:00pm
Ages 14+
Advance tickets available from:
www.alt-tickets.co.uk
www.gigantic.com
www.bristolticketshop.co.uk


Comments