The Thekla Archives: 2016
Ryan Hamilton, DHP Presents: Ryan Hamilton
RYAN HAMILTON
www.ryanhamiltonmusic.com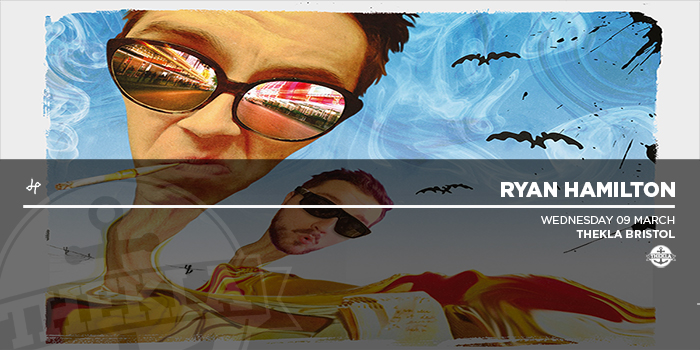 Growing up in the heart of a music loving state like Texas, it would have been hard for acoustic singer songwriter Ryan Hamilton to avoid being exposed and eventually fall in love with music. Even as young as eight years old, whilst traveling in his Dad's truck listening to John Cougar Mellencamp, the music bug had already bitten. Once he discovered The Eagles, with their unbelievable musicianship and vocal harmonies, the young Hamilton realized that music was a journey he wanted to take.
Initially tasting nationwide success with the indie folk band SMILE SMILE, Hamilton found himself signed to a record label and out on the road supporting several successful album releases. Their track 'Sad Song' received a nomination for 'Best Folk Song in the Los Angeles Independent Music Awards' and the band was nominated for 'Best USA Artist' in the Toronto Independent Music Awards. It was whilst performing at the South by South West Festival in 2010, that Ryan met Jaret Reddick (front man for pop rock band Bowling For Soup). The pair struck up an unlikely friendship, which led to both bands heading out on tour with Reddick and Hamilton deciding to write songs together. The instant chemistry, and mutually similar influences growing up, led to the formation of PEOPLE ON VACATION.
The unfortunate demise of SMILE SMILE, gave both Hamilton and Reddick time to focus fully on their new project. PEOPLE ON VACATION was growing at an incredibly fast pace due to them embracing social media, crowd funding and online concerts which allowed the band to be continually in touch with their fan base all over the world. In the short time POV have been together they have already released three full length albums, an EP and toured the UK on several occasions.
Outside of POV, Ryan has released his debut solo album and also showcasing his other artistic talent of painting. Already his unique abstract pop culture paintings, or 'Fake Ads', have attracted attention from the world famous Thomas Crown Art Gallery who have recently commissioned several of his works.
WEDNESDAY 09 MARCH
THEKLA BRISTOL
The Grove, Bristol BS1 4RB
Doors 7:00pm
Ages 14+
Advance tickets available from:
www.alt-tickets.co.uk
www.gigantic.com
www.bristolticketshop.co.uk
Comments