The Thekla Archives: 2015
Lauren Aquilina, DHP Presents: Lauren Aquilina
LAUREN AQUILINA
www.facebook.com/laurenaquilinamusic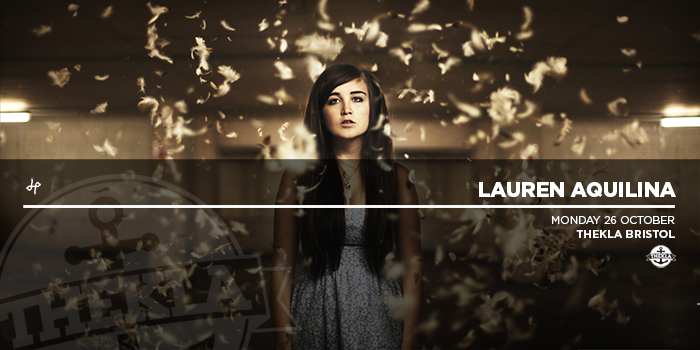 Here are two very good places to start if you're fresh to Lauren Aquilina: Lauren has already headlined the BBC Radio 1 Introducing stage at the Reading and Leeds Festival; at the tender age of 16 Lauren wrote, recorded and self-released her debut EP Fools, which together with her follow-up EP Sinners also self-released went on to sell an incredible 70,000 copies.
Lauren's dynamism to put her own music out there didn't go unnoticed, pop behemoth Taylor Swift tweeted her love for Lauren's debut EP Fools and invited her to support her at Hyde Park earlier this year.
All incredible achievements for the now 20-year-old singer-songwriter whose debut Fools EP propelled Lauren into the UK iTunes Top 10. Fools' captivating follow-up releases Sinners EP and Liars EP, made the Official UK Singles Chart, with the latter making its way into six Billboard charts in the US.
Lauren began writing poetry at the age of eight but it was music that gripped her and Lauren's first foray into songwriting saw her putting her own lyrics to the melodies of songs heard on the radio in the early 00s. Soon after that though, she started crafting her own songs on the piano. But it's lyrics – and her desire to connect with fans – that drive Lauren, whose big inspirations right now are her own early days of low self-belief, her favourite romantic films and Bon Iver.
After a whirlwind few years of self-releases and sold-out headline shows, both here and in the US, Lauren releases her new EP Ocean on October 9th on Island Records. With a UK headline tour to support the release, Lauren, who's just moved to London and landed one of the biggest syncs of the year (Downton Abbey finale TV advert) is about to pen another compelling chapter in her story.
MONDAY 26 OCTOBER
THEKLA BRISTOL
The Grove, Bristol
BS1 4RB
Doors 7:30pm
Ages 14+
Advance tickets available from:
www.alt-tickets.co.uk
www.gigantic.com
www.bristolticketshop.co.uk
Comments