The Thekla Archives: 2015
MC Devvo, DHP Presents: MC Devvo
Tuesday 27th October 2015
Supported by:

The ASBO Disco
MC DEVVO
http://www.fat-pie.com/devvo/devvo.html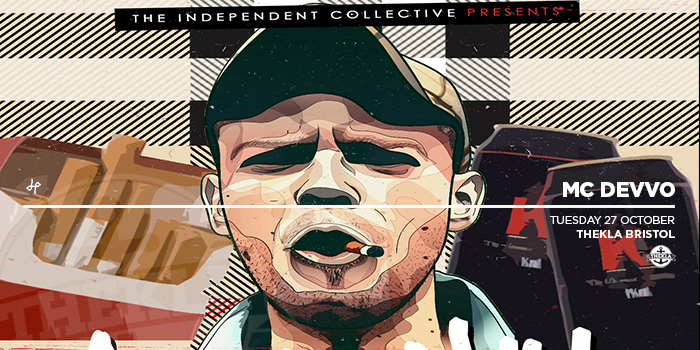 MC Devvo & Shady Piez are a MC & DJ duo who often rap about life on the streets of Doncaster the rest of Yorkshire - Drugs, Sex and violence play a large part in their music. Up tempo rap with easy to learn and funny lyrics. No-one can be quite sure if devvo takes his music seriously but it still seems to have a fan base and Devvo and Shady Piez tours are sold out all over the UK.

Darren 'Devvo' Devonshire is the titular subject of a series of short mockumentaries about chav culture which began in 2004. These are created by the filmmaker and animator David Firth, and can be found on the website Fat-Pie.com. The films are based on the activities of working class British youth, and play on the stereotype that they like to drink high-strength cider in public places, rely on jobseeker's allowance and harass innocent members of the public. These youths are known in parts of the UK as chavs, neds and other regional colloquialisms.

Devvo is said to be from the Doncaster/Hull area in the north of England, and he speaks in a strong accent, often humourously mispronouncing words. Devvo frequently uses bad language and is generally unpleasant to other people. Some episodes feature other characters such as Bezzin, a character very similar to Devvo. Devvo regularly advocates the taking of recreational drugs, preferring marijuana, ketamine and ecstasy. His music and films also show that he enjoys techno group Scooter along with White Lightning, a brand name of cheap, strong white cider sold in the UK.
THE ASBO DISCO
www.facebook.com/ASBODisco
TUESDAY 27 OCTOBER
THEKLA BRISTOL
The Grove, Bristol BS1 4RB
Doors 7:00pm
Ages 18+
Advance tickets available from:
www.alt-tickets.co.uk
www.gigantic.com
Bristol Ticket Shop
0844 871 881
Comments