The Thekla Archives: 2015
Moulettes & Nizlopi , Thekla presents Moulettes & Nizlopi co headline tour: 14+ event
Wednesday 11th November 2015
Supported by:

Heg & The Wolf Chorus
MOULETTES & NIZLOPI
www.moulettes.co.uk & www.nizlopi.com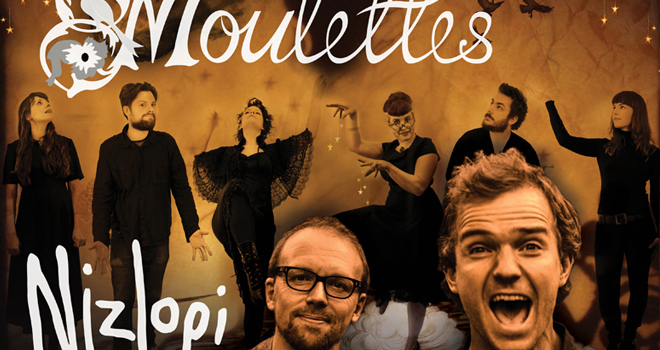 Two of the UK's favourite experimental music artisans have announced a unique co-headline tour for October/November 2015. Folk world favourites Moulettes join forces with number one selling folk/hip-hop duo Nizlopi, with a set of dates due to climax with a highly anticipated date at London's Union Chapel on Friday November 27th.
Having met at school, duo Nizlopi went on to have a number one hit with 'The JCB Song' in 2005 – leading to performances at Wembley Arena, all over Europe and becoming a million-record-selling success. For these roots, soul, folk and hip-hop inspired musical activists, the success enabled them to take their music to people all over the world, to count Daniel Day-Lewis, Tony Benn and Jamie Cullum among their fans, and for their former roadie Ed Sheeran to cite them as a major influence. After a four-year hiatus, the duo came back in 2014 to where they left off, playing constantly around the UK and Ireland.
Brighton based indie-folk-pop band Moulettes are currently involved in the European leg of a vast tour in support for last year's hit album 'Constellations', released via Navigator Records. Noticeably influenced by Bjork, Kate Bush and others, the band's female driven five part harmonies are accompanied with amplified and effected bassoon, cello, guitar, drums and synths. Also having begun life whilst at school together in Glastonbury, original members Hannah Miller, Ruth Skipper, Ted Dwane (Mumford & Sons), Rob Skipper (The Holloways) and Ollie Austin have since toured constantly, including high profile festival performances (Glastonbury, End of the Road, Cropredy, Bestival & Cambridge Folk Festival). They have shared the stage & studio with Nick Cave, Arthur Brown, Band of Skulls, Seasick Steve, Gentle Giant, Dave Gilmour and The Levellers to name a few. 2014 also saw the band tour as main support for Bellowhead.
Support from:

HEG & THE WOLF CHOURS
www.hegandthewolfchorus.com
WEDNESDAY 11 NOVEMBER
THEKLA BRISTOL
The Grove, Bristol BS1 4RB
Doors 7:00pm
Ages 14+
Advance tickets available from:
www.alt-tickets.co.uk
www.gigantic.com
Bristol Ticket Shop
0844 871 881
Comments