The Thekla Archives: 2015
Imperial Leisure, Thekla presets Imperial Leisure: 14+ Event
Friday 10th April 2015
Supported by:

Ghouls + Great Big Bargain + Sarah De Warren
IMPERIAL LEISURE
www.facebook.com/imperialleisure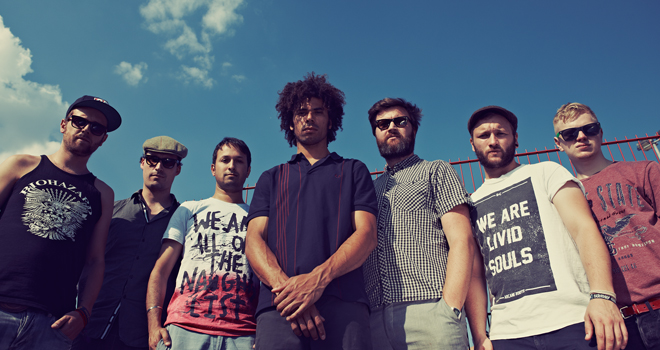 Formed in 2000, London based ALTSKA band Imperial Leisure have been bracing the festival and gig circuit for over a decade now. With high intensity performances and alcohol fueled party vibes now what is expected from the band that originally started off as a college band.
It's just a whisker under 10 years since their first tour supporting hiphop all-stars Ugly Duckling: they rocked it then and they've kept on rocking it all the while since, supporting many bigger bands such as Roots Manuva, Less Than Jake and Young Blood Brass Band. With numerous festival appearances under their belt, the band have been wowing crowds all over the UK from the super-sized Glastonbury and Bestival to the more modest scaled affairs such as the family friendly Blissfields and the jewel of alternativeness that is 2000 Trees Festival.
Renowned as champions of the live arena, Imperial Leisure have also paid their dues in the studio too, with two fine self-released albums under their belts. Debut album 'The Art of Saying Nothing' smashed on to the scene back in 2008 and was described by Radio 1 as having a sound "of epic proportions", and although sophomore release Death To The One Trick Pony displayed a darker side the party was still very much in full swing, albeit with the casualties racking up!
So now, the band have a third album clearly in their sights: they're hard at work on what promises to be a show stomping, vibed-up display of musicianship, energy and spontaneity. On-side for the third coming are producers Peter Miles and James Bragg, who having worked with the likes of The Skints and The King Blues come highly recommended. Now signed to independent punk rock and hip-hop label FXD Records the band have found a settled home for their new record which promises to take it back to the original sound of the band with much more hip hop and punk ska being the driving force. Imperial Leisure released a teaser of whats to come in the future when they released single "Nasty Boy" which included a video of the band and fans destroying an old warehouse of the lead singers.
After the early months of 2014 supporting King Prawn on tour the band have been on the incline with Californian based clothing company SRH endorsing them with clothes for the summer who also endorse NOFX, Pennywise, Slightly Stupid and many more, plus numerous amounts of festivals in both Europe and UK including Boomtown Fair, Rebellion, Secret Garden Party, Mighty Sound Fest and many more.
Support from:
GHOULS
www.facebook.com/ghoulsuk
GREAT BIG BARGAIN
www.facebook.com/TheGreatBigBargain
SARAH DE WARREN
www.facebook.com/sarahdewarrenmusic
FRIDAY 10 APRIL
THEKLA BRISTOL
The Grove, Bristol BS1 4RB
Doors 7:00pm
Ages 14+
Advance tickets available from:
www.alt-tickets.co.uk
www.gigantic.com
Bristol Ticket Shop
0844 871 881
Comments