The Thekla Archives: 2015
The Invisible Orchestra, Thekla presents The Invisible Orchestra: 14+ event
THE INVISIBLE ORCHESTRA
www.facebook.com/TheInvisibleOrchestra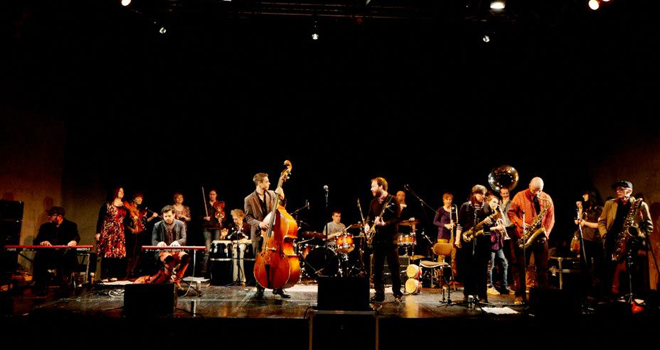 The Invisible Orchestra is an electrifying 32 piece orchestra combining dirty funk, soul, and big band with huge orchestral sweeps, Afro-beat, Arabic punk, latin, reggae and more.
Created in 2012, bandleader James Waring has brought together hand-picked musicians from Nottingham and nationwide, The Invisible Orchestra features session quality musicians who have travelled far and wide playing almost every genre over the past 25/30 years.
The orchestra bursts with a hugely experienced core rhythm section of drums, double-bass, guitar, percussionists, congas, a Grammy award winning Hammond organist and is supported by a full complement of saxophones, tuba, sousaphone, trumpets, cornet and trombones, giving the band a diverse platform to create the music. The addition of a string quartet and piano gives even greater potential for this ever expanding unmissable ensemble.
At the core of The Invisible Orchestra are members of Nottingham's legendary Royal Gala, Harleighblu's live band, Hallouminati, Rollo Markee and The Tailshakers, Sabar Soundsystem, DC Fontana, Nottingham Symphony Orchestra, Nottingham Jazz Orchestra, Spaceships are Cool, Salmagundi, Aistiguca, Manière des Bohémiens, Hhymn, Old Basford and Stoned Soul Picnic, alongside touring members of internationally known bands such as - The Specials, Bad Manners, Laurel Aitkin, Pendulum, The Beat and The Lee Scratch Perry Band among many others.
Topping it all off are vocal performances from the likes of Harleighblu (Tru-Thoughts) Natalie Duncan (Verve), Percydread (The Natural-ites) Hannah Heartshape, MC Spyda (of Pendulum fame) and Ed Bannard of Hhymn with even more guests nationwide in the pipeline.
Support from:
John Stapleton (Wanted Records)
SUNDAY 17 MAY
THEKLA BRISTOL
The Grove, Bristol BS1 4RB
Doors 7:30pm
Ages 14+
Advance tickets available from:
www.alt-tickets.co.uk
www.gigantic.com
Bristol Ticket Shop
0844 871 881
Comments