The Thekla Archives: 2014
Yes Sir Boss (Live) + Superbeat (Live)
Friday 17th October 2014
Supported by:

DJ Smerin +Lingo + Beats, Breaks & Bass
YES SIR BOSS (LIVE)
www.facebook.com/yessirboss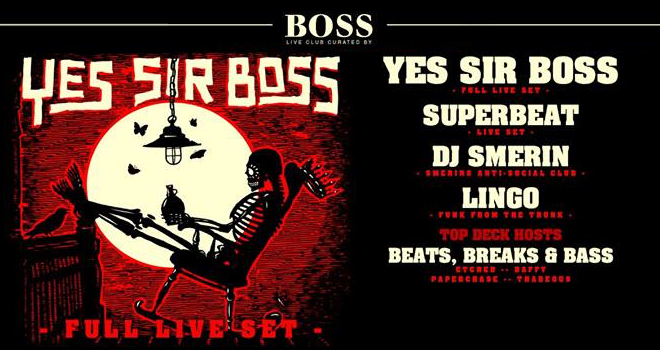 YES SIR BOSS began in 2004 when Matt Sellors started a 3-piece blues outfit named Sellors and the Scientists. All students of the former Dartington College of Arts in Devon, Sellors and the Scientists gigged the Uni bar and surrounding area, gaining notoriety as an original and exciting new live act. Members came and went but the core stayed the same. After graduating the band decided to move to Bristol to see what IT had to offer. It was only then that yes sir boss was really born. Within a year YSB had made their mark as one of Bristol's best live bands. They sailed onto the festival circuit and began what was to become a long and wonderful journey into the fields and clubs of the UK and beyond

over 500 gigs later, YES SIR BOSS have cultivated a truly original and indefinable sound. They're everything from brooding Balkan blues to horn injected rock. The meeting of these diverse sounds makes their songs rootsy, uplifting and totally unique. Their heavy blend of horn led hooks and epic riffs provide the perfect backing for Matt Sellors' seductively expressive vocals. YES SIR BOSS captivate audiences with their energy. Now a 5-piece they have performed numerous headline slots at many of the UK's and Europe's best festivals and have appeared on BBC Radio London, BBC Bristol and Rob Da Banks International show on BBC radio 1

With one album out (Desperation State, 2012) YSB will now thrill their fans for a second time with their album 'king in a rocking chair' released in April 2014. They are wowing the festival scene in Germany, The Netherlands, France and Austria and also have tours planned in Scandinavia. Their ambition grows daily and they remain one of the UK's finest live bands. They are a must see for anyone with a love of music and an appreciation for what it is to be a band.
Support from:
SUPERBEAT (LIVE)
www.facebook.com/pages/SUPERBEAT/320779324720903
DJ SMERIN, LINGO AND TOP DECK HOSTS, BEATS, BREAKS & BASS
FRIDAY 17 OCTOBER
THEKLA BRISTOL
The Grove, Bristol BS1 4RB
Doors 10:00pm
Ages 18+
Advance tickets available from:
www.alt-tickets.co.uk
www.gigantic.com
Bristol Ticket Shop
0844 871 881
Comments