The Thekla Archives: 2014
Beardyman, thekla presents beardyman: 14+event
Thursday 27th November 2014
BEARDYMAN
www.beardyman.co.uk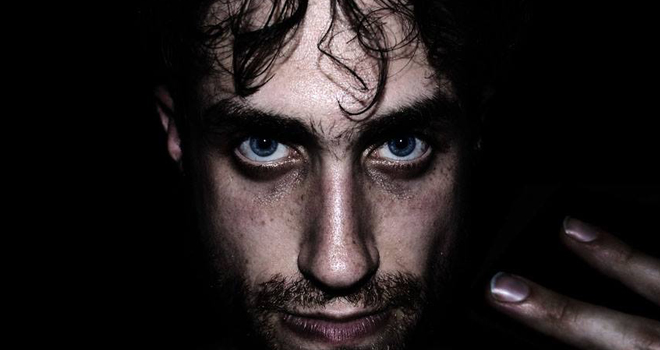 What exactly is Beardyman? One minute he's winning the UK Beatbox competition, twice, next he's winning best MC at Breakspoll, then he's playing a sold-out run of solo comedy shows at the Edinburgh Fringe. That's not fair... Most people only get to do... well... none of those... but this is Beardyman we're talking about. A leading light on the Beatbox scene since he landed on it with a bang in the mid noughties, Beardyman, (real name Darren Foreman) has always pushed beatbox way beyond what most beatboxers consider its limits. A uniquely gifted performer, his refusal to be put in a box has seen him beatbox all over the world including support slots touring with Groove Armada and hosting huge festival main stages.
However, all this was not enough for Foreman. Frustrated with the restrictions of the human mouth, but still obsessed with it's unparalleled capabilities, he quickly became a leading figure in the emerging trend of live- looping, being the first to appropriate the Korg Kaoss Pad as a live-looping tool and pushing his beatbox- based art form into the entrancing and uncharted realms of live-production. "Beatbox for me is just the quickest way of getting the ideas in my head out into the world where people can hear them" he says. Now, when playing to screaming fans all over the world, he uses an ever-growing arsenal of sound manipulation technology to take the ever-growing crowds with him on full-length musical journeys, darting from exhilaratingly ad-hoc rave-up to comedic musings and interpretations and mash-ups of classic tunes from a huge range of genres. His YouTube videos, which range from the comedic and ridiculous to the downright breathtaking, have been viewed tens of millions of times and it's hard to find a bad comment on any of them.
Predictably however, despite all this, he's still not satisfied. "I've been writing songs since I was five" he says, with an air of mystery, "but up till now no-one's got to hear them... and they're still not going to... ha... these ones are all new. It's been a crazy year but I've spent it making basically the most insane album ever..." one listen and you see what he means. It's completely nuts, but absolutely enthralling: a hilarious and screw-face inducing roller-coaster ride through the twisted mind of a high-functioning musical savant. Savage Balkan wub-step, African township funk, future-step Bollywood-dancehall, tear-out drum'n'bass, twisted shoe-gaze electro-wonk, IDM insanity, blissful chill-out, epic vocal dub-psychedelia and all of it interpolated with skits which border on Chris Morris-like levels of darkness. As challenging as it is entertaining, it's a genre-crossing yet highly focused expertly-produced master-work which is set to smash peoples expectations once again.
Rob da Bank's Sunday Best label hooked Beardyman up with eclectic music-meister Tom Middleton to kick off the recording sessions. For this Beardyman assembled and an "insanely complex Ableton Live rig with buttons everywhere, it was mental, took us two days to set this thing up, a week to programme it, it was really unstable, it kept crashing ʻcause it was pushing Ableton beyond its limits, but it was the closest thing to the perfect live production system..." And that's what it's always been about for Beardyman. Live production. So why has it taken him this long to come out with an album if he produces an album's worth of material every gig? "I've been searching for a way of taking what I do live and capturing it in a form I can edit and polish to perfection" he says. "The technology we used on this album is really cutting edge. We were able to work really fast, just capturing ideas as they come out, no sitting around deliberating, deliberation kills the best ideas". And what is this first foray into the recording world called ʻI Done A Album'. The art of understatement. Whatever it's called... it's a hugely invigorating, intoxicating and thrilling ride for anyone who's got the balls.
The first single from ʻI Done A Album' is Where Does Your Mind Go: a warped, and unusual electro-ballad, this track showcases Beardyman as an artist capable of delivering songs with lyrics as twisted and introverted as Nine-Inch-Nails or Sonic Youth whilst being truly unique in sound and production style, echoing French house but being somehow closer to Chemical Brothers meets T-Rex. Cool, yet tense, it worms its way in and out of balladry and build-up, finally settling on banging gutter-strut electro-tear-out before disappearing into atmospherics again leaving the listener disorientated but invigorated.
"I could have taken it way more out there," says Foreman," with a mischievous glint in his eye. Perhaps its for the good of humanity that he didn't, there's clearly a lot more this budding new recording artist has to offer but for the good of our sanity I think he's going to pace it out over what promises to be a long and fascinating recording career. If you're wondering if his recorded work can be as innovative and entertaining as his live work, wonder no more. You'll be listening to this album on loop for the rest of next year trying to get your head around it. Beardyman reflects on the whole process, "It's been hard making this album because I have some form of musical A.D.D. But everything's beat driven and nothing's out of bounds. My album's all about taking people on a journey, and making it entertaining enough for everyone to willingly come with me – wherever it takes them, wherever it goes..."
THURSDAY 27 NOVEMBER
THEKLA BRISTOL
The Grove, Bristol BS1 4RB
Doors 7:00pm
Ages 14+
Advance tickets available from:
www.alt-tickets.co.uk
www.gigantic.com
Bristol Ticket Shop
0844 871 881
Comments