The Thekla Archives: 2014
The Vaselines, Thekla presents The Vaselines: 14+ event
Saturday 15th November 2014
THE VASELINES
www.thevaselines.co.uk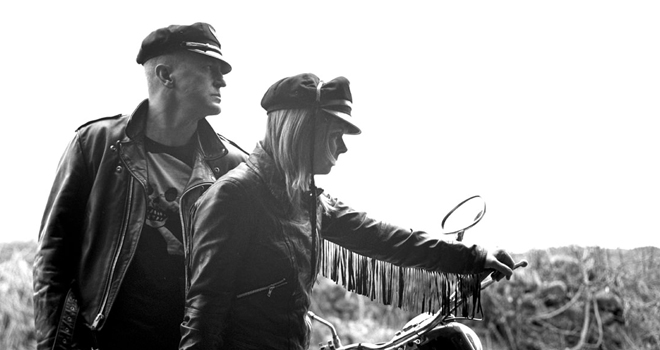 The Vaselines formed in Glasgow in 1987 and released two singles and one album, Dum Dum, on Scotland's legendary 53rd & 3rd label.
Their music was a playful, sex-obsessed, and totally catchy amalgam of bubblegum and the Velvet Underground that would help form the blueprint for modern indie-pop.
The Vaselines broke up in 1989 — the same week Dum Dum was released — but soon Kurt Cobain began literally singing their praises: not only did he plug them in interviews, calling Eugene and Frances his "favorite songwriters in the whole world," but Nirvana covered three Vaselines songs, igniting world-wide interest in this obscure, defunct and absolutely brilliant band.
In 1992, Sub Pop released the compilation The Way of the Vaselines, introducing the band to a new generation of fans.
Eugene and Frances were still making music: Eugene formed Captain America, aka Eugenius, and signed with Atlantic Records; Frances led the bands Painkillers and Suckle.
The two stayed in touch and even played together now and then, reuniting in 2008 and touring the U.S. — including a legendary appearance at Sub Pop's 20th anniversary festival — as well as Brazil, Japan and the UK to adoring audiences beguiled by the band's irresistible tunes and hilariously salty stage banter.
Soon, there was the acclaimed Sex with an X (2010) — unmistakably the Vaselines but with a more sophisticated sound and a newfound poignancy
and wisdom.
Above all, V for Vaselines is a celebration of the continued chemistry of Eugene and Frances.

"We just work together well," Eugene says. "I don't know what it is but when we get together, it creates a sound we couldn't do separately."
They were struggling for an album title until one day Eugene came across a classic photo of Winston Churchill flashing the V-for-victory sign. "And I just thought, 'V for Vaselines!'" he says, "Frances loved it too, so that was it."
And the album is indeed a sort of victory.
SATURDAY 15 NOVEMBER
THEKLA BRISTOL
The Grove, Bristol BS1 4RB
Doors 7:00pm
Ages 14+
Advance tickets available from:
www.alt-tickets.co.uk
www.gigantic.com
Bristol Ticket Shop
0844 871 881
Comments