The Thekla Archives: 2014
The Lawrence Arms - The Fleece, Thekla presents The Lawrence Arms: 14+ event
Saturday 11th October 2014
Supported by:

Sam Russo / Bangers
THE LAWRENCE ARMS
www.lawrencearms.org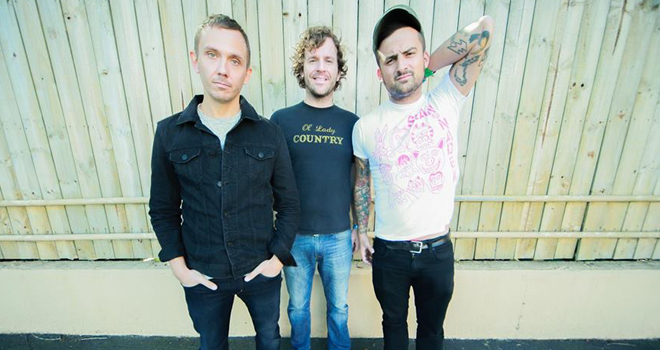 The Lawrence Arms are a punk rock trio from Chicago, formed in 1999. The lineup consists of Brendan Kelly (vocals & bass), Chris McCaughan (vocals & guitar), and Neil Hennessy (drums). They have released five full-length albums and are currently signed to Fat Wreck Chords. Their music and lyrics exhibit their propensity for juxtaposing references from history and literature with American pop culture. The band takes its name from a building the members resided in (and were later evicted from) called the Lawrence Arms, which was located in the Uptown neighborhood of Chicago.
Members of the Lawrence Arms have also played in The Broadways, Slapstick, Tricky Dick and Baxter.
The three musicians came together to form the Lawrence Arms in 1999. Although punk rock bands in their infancy generally start out by releasing EPs and 7" vinyl singles, the band members used their existing relationship with Asian Man Records to immediately begin recording a full-length album, A Guided Tour of Chicago, which was released later that year. A second album, Ghost Stories, followed in 2000. Both albums focused heavily on the members' own stories of growing up and living in Chicago.
Support from:
SAM RUSSO
www.facebook.com/samrusso113
BANGERS
www.facebook.com/bangersbangers
SATURDAY 11 OCTOBER
THE FLEECE
12 St Thomas St, Bristol BS1 6JJ
Doors 7:00pm
Ages 14+
Advance tickets available from:
www.alt-tickets.co.uk
www.gigantic.com
Bristol Ticket Shop
0844 871 881
Comments