The Thekla Archives: 2014
The Neville Staple Band , Thekla presents the Neville Staple Band: 14+ Event
Friday 21st November 2014
Supported by:

Talisman
THE NEVILLE STAPLE BAND
www.last.fm/music/Neville+Staple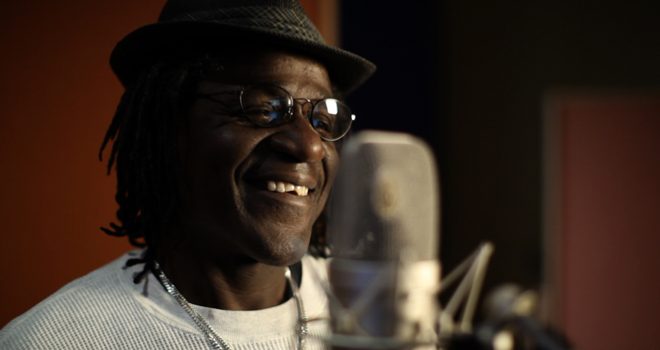 Neville Staple was a composer and a singer for The Specials, and was one of the founding members of the Fun Boy Three.

He has worked with such legends as Elvis Costello (The Specials 1979 - Chrysalis Records), David Byrne (Fun Boy 3 Waiting 1983 - Chrysalis Records), and Ali Campbell (Today's Specials 1996 - Kuff Records/Virgin), to name only a few.

Some of Neville's recent projects and collaborations include hooking up with Roger Lomas, in Coventry, England to record Skinhead Girl and Conquering Ruler for Trojan Records (UK), and co-producing with John Avila (Oingo Boingo) The Best of The Specials & Fun Boy 3 Performed by Neville Staple for Cleopatra Records.

Since 1998 Neville has been on a mission to entertain, successfully touring North and South America extensively on his own.

It is well worth seeing Neville's live; his captivating stage presence and distinct voice are well worth it! The man has a purple aura and warm affect. If you didn't come to skank, you'll leave skanking down the street. Catch his show these days, and you'll get a mix of old favorites plus loads of his brand new original solo material.
TALISMAN
www.facebook.com/talismanreggae
Talisman were one of the UK's top Roots Reggae bands in the later 70's and early 80's.The band's prowess earned them support slots with acts as diverse as Burning Spear, The Clash and The Rolling Stones. They have reformed with the original line up after 30 years apart to support the re-release of their classic roots single 'Dole Age' on a brand new album 'Dole Age - The 1981 Reggae Collection'. One of Bristol's finest live acts are back and ready to party once again.

Originally formed in 1977 Talisman were consummate performers constantly vying for the title of one of the country's most popular live reggae bands. They toured the UK building up a loyal following and leaving memories of gigs that are still discussed to this day.
Until now the only way to hear Talisman has been to track down their two difficult to find singles from 1981, or their two later LPs, "Takin' The Strain" from 1984 and "Jam Rock" From 1990. Now after nearly thirty years Bristol Archive Records have lovingly compiled this CD of the band at their peak in 1981. Not only does the CD contain the band's two original 7" singles, but also eight carefully selected live cuts from classic shows at Glastonbury Festival and other infamous shows.

Hot on the heels of the critically acclaimed 'The Bristol Reggae Explosion 1978-1983' Bristol Archive Records release 'Dole Age - The 1981 Reggae Collection' celebrated at their first Bristol show for 20 years at The Fleece in Bristol on 27th May 2011.
FRIDAY 21 NOVEMBER
THEKLA BRISTOL
The Grove, Bristol BS1 4RB
Doors 7:00pm
Ages 14+
Advance tickets available from:
www.alt-tickets.co.uk
www.gigantic.com
Bristol Ticket Shop
0844 871 881
Comments