The Thekla Archives: 2014
Suburban Legends, Thekla presents Suburban Legends: 14+ event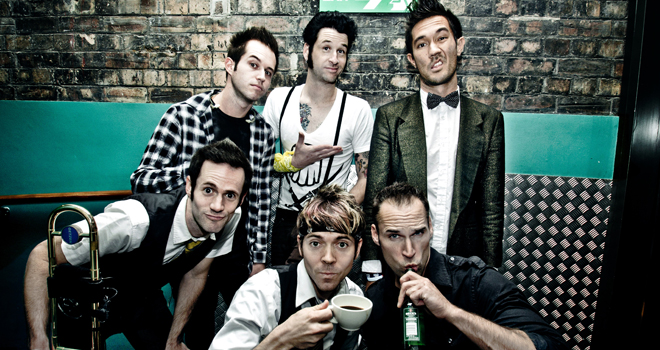 SURBAN LEGENDS
www.suburbanlegends.com

Suburban formed in 1998 as The No Tones, then renamed themselves to Bomb Squad shortly thereafter, releasing one EP under that name. In 1999, they changed their name to Suburban Legends and released their first album, Origin Edition. They gained much popularity from playing nearly 1000 concerts at Downtown Disney at the Disneyland Resort in 2001. They released their second album Rump Shaker in 2003, and released their new EP, Dance Like Nobody's Watching, in May 2006, signaling a change in the band's sound from ska towards a more funk/disco feel. In 2007, they released their Japan-only album, Dance Like Nobody's Watching: Tokyo Nights (an extended version of their 2006 EP), and their album, Infectious, was released on July 29, 2007 at the House of Blues Anaheim. Their most recent album, Let's Be Friends… and Slay the Dragon Together was released on July 10, 2008. Let's Be Friends signaled yet a new change in the band's sound, with several new ska tracks, such as "Girl's Got What I Want" and "Getting Down to Business." The band released a new ska punk album, Day Job on April 3, 2012.
They were known as the Bomb Squad from 1998-2000.
On October 19, 2005, Suburban Legends suffered the loss of 23-year-old trombonist Dallas Cook, who died suddenly in a motorcycle accident. Though the band has pushed onward, a memorial to Dallas Cook remains on their website, www.suburbanlegends.com , and they have since started the Dallas Cook Memorial Fund, all of whose proceeds will be donated to the music program at Cook's former high school, Huntington Beach High School.
Comments