The Thekla Archives: 2014
Dot To Dot Festival 2014, Thekla presents Dot To Dot Festival 2014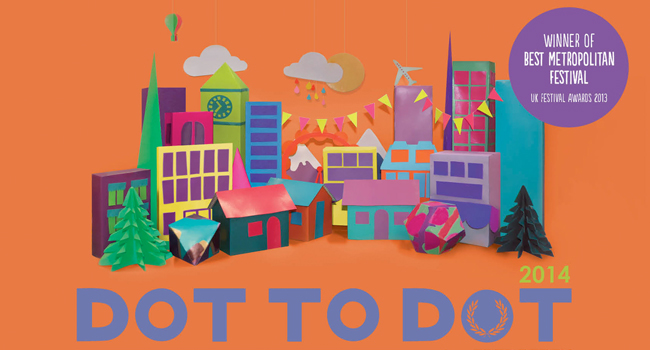 DOT TO DOT FESTIVAL 2014 - BRISTOL
www.dottodotfestival.co.uk
PEACE **
THE MIDNIGHT BEAST **
REAL ESTATE
WOLF ALICE
COURTNEY BARNETT
FRANK HAMILTON **
MARIKA HACKMAN
SIVU
BARBAROSSA
BETTY WHO
CAVEMAN
DARLIA
FYFE
GAVIN JAMES
GEORGE BARNETT
HORSE THIEF
KYLA LA GRANGE
LAPLAND
LAURA WELSH
LSA
NORMA JEAN MARTINE
ST PAUL AND THE BROKEN BONES
SUNDARA KARMA
WE THE WILD
WE WERE EVERGREEN
WONDER VILLAINS
YOUNG KATO
YEARS AND YEARS
RALEIGH RITCHIE
INDIANA
RHODES
SPRING OFFENSIVE
SUPERFOOD
KESTON COBBLERS CLUB
ADAM BARNES
ALICE BONHAM
COUSIN MARNIE
DOLOMITE MINOR
DROWNERS
EMILY IN THE WOODS
FAMY
FICKLE FRIENDS
HERO FISHER
HONEYBLOOD
JAMIE ISAACS
JOHNNY LLOYD
JULY TALK
LOVE ZOMBIES
MAXWELL JURY
OSCA
RAMONA FLOWERS
SPRING OFFENSIVE
STATS
STONEFIELD
THE BOHICAS
THE ELWINS
THE MINUTES
THE SCENES
TOR MILLER
WHITE LUNG
Winner of 'Best Metropolitan Festival' at UK Festival Awards 2013
Dot to Dot offers a unique experience for festival-goers and artists alike' – efestivals
'One of the UK's fastest rising festivals' - NME
'With a stunning bill and venues within yards of one another we'll leave you to join the dots.' - Clash
Winner of 'Best Metropolitan Festival 2013' at the UK Festival Awards, Dot To Dot Festival is established as the UKs premier festival for unearthing the hottest new talent around, alongside established acts from all over the globe. Now in its ninth year and touring Manchester, Bristol and Nottingham from the 23rd to the 25th May, Dot To Dot's ever eclectic line-up is set for its biggest and best year to date.
Headlining this year's festival will be Peace, the zeitgeist guitar band of 2014. It's been a phenomenal couple of years for the group, having released their critically acclaimed debut album In Love and going on to woo crowds worldwide. Indeed, seasoned Dot To Dot-goers will be aware that the band return to the festival as headliners following a stand out performance in their formative years at Dot To Dot 2012. With third studio album "Atlas" imminent, lo-fi surf rockers Real Estate make a welcome visit to the UK.
A trio of parody upstarts with musical know-how The Midnight Beast also join this year's line-up. The bonafide internet sensations, with over 64 million YouTube views, are sure to crack a wry smile on the Dot to Dot-goer whilst they dance to their humorous hits. Parisian alternative indie-electro-pop trio We Were Evergreen and indie revivalists Wolf Alice also join the bill. Further along the line-up, expect a quixotic mix of folk-electronica from Fyfe, grunge tales of youth and love and anger from Darlia, the soul tinged styling's of London based New Yorker Norma Jean Martine plus lots, lots more. All of whom could one-day be headlining Dot to Dot Festival!
Dot To Dot Organiser Anton Lockwood (of DHP Family) said: 'At Dot to Dot we are really proud of our record of giving fresh young artists one of their first chances to prove themselves to a festival crowd, so in 2014 it's especially pleasing to see Dot to Dot veterans Jake Bugg, Ellie Goulding and Ed Sheeran selling out huge arena shows! Who of this year's line up are going to make the leap to superstardom? We can't be sure, but we do know the artists we are announcing today are just the first few of a line of exciting and diverse new artists, and Dot to Dot is your chance to see them now before the arena stage beckons!"
Previous Dot to Dot line-ups have seen performances from The xx, Mumford and Sons, The 1975, London Grammar, Jake Bugg, SBTKRT, The Cribs and many, many more. With the emphasis on showcasing the hottest new talent on the planet there will be lots more exciting additions to be announced for Dot To Dot's 2013 line-up. Make sure you keep checking http://www.dottodotfestival.co.uk/ for all the latest news and ticket info
Tickets are priced from £20 and are available from www.alt-tickets.co.uk
O2 Academy / Thekla / The Fleece / Exchange / The Louisiana / Trinity Centre / Start The Bus
Saturday 24th May 2013
1pm - 4am
Ages 14+
Please note under 18s will only have access to O2 Academy and Trinity Centre - bands marked with ** are guaranteed to be performing at 14+ venues.
Comments