The Thekla Archives: 2014
Bo Ningen, Thekla presents Bo Ningen: 14+ EVENT
Thursday 8th May 2014
Supported by:

Younghusband / The Scenes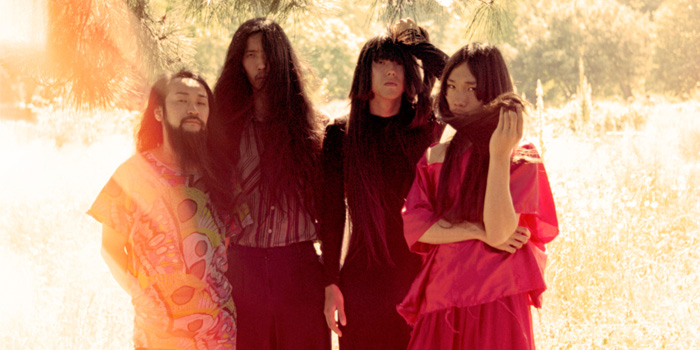 BO NINGEN
www.boningen.info
Bo Ningen arrived when Taigen and Kohhei's bands played on the same bill. Bad news for their previous band-mates but each had found a kindred spirit, someone else who wanted to leave 'rock' behind and commit to something much weirder. Mon Chan and Yuki joined in a similar fashion, hearing the beyond-fucked-up noises of this new two-piece. The fundamentals were laid and the four expatriate cosmonauts were set to channel the "pure music" they had in mind.
After many continual twelve hour jams had blurred the distinction between their limbs and their instruments, they played the first "true" Bo Ningen show. The story of the next two years followed a fairytale pattern of adversity with the eventual catharsis of now being regarded by many as London's best live band,
By this point Bo Ningen had struck up with Stolen Recordings releasing their first EP on 10" vinyl quickly followed by their debut album 'Bo Ningen'.
Snowballing interest saw them taken up as something like international art pin-ups, collaborating with Tim Noble & Sue Webster, The Frieze Art Fair, Copenhagen Film Festival, the Venice Biennale, the Yohji Yamamoto V& A exhibition and the Branchage Film Festival. They also performed at Yoko Ono's 2013 Meltdown Festival. Meanwhile, their prodigal son-style homecoming to Japan were surreal day dreams in which they appeared alongside personal heroes Damo Suzuki, Keiji Haino, Merzbow, and Guitar Wolf. They have also played with The Horrors, Faust, The Cult, SCUM, TOY and British Sea Power.

Though they come from Gunmma, Tajimi, Nishinomiya, and Tokyo, they coalesced in London. Musically, they channel their country's legacy of obscure, brain-warping heavy-psych: all traceable beneath their esoteric sound. It's evident however that they were in the mood for discovery: fusing their tastes in Acid Folk and Noise and hurling them into the electric cataclysm along with a weighty dose of Sabbath and Nirvana.

" We draw a line from the past to the future in order to shape the whole new notion of psychedelic; not a genre or field but it is more like a line, border line between and across genre/field itself. The line which does not divide or separate the field but resonates them. Being psychedelic means to stand quietly / loudly in the middle of interzone and stare at both sides at once"
They are currently recording album number three.
Support from:
YOUNGHUSBAND
www.facebook.com/YoungHusbandMusic
THE SCENES
www.scenesband.com
THURSDAY 8 MAY
THEKLA BRISTOL
The Grove, Bristol BS1 4RB
Doors 6:30pm
Ages 14+
Advance tickets available from:
www.alt-tickets.co.uk
www.gigantic.com
Bristol Ticket Shop
0844 871 881
Comments