The Thekla Archives: 2014
Damien Dempsey, Thekla presents Damien Dempsey: 14+ EVENT
Tuesday 18th February 2014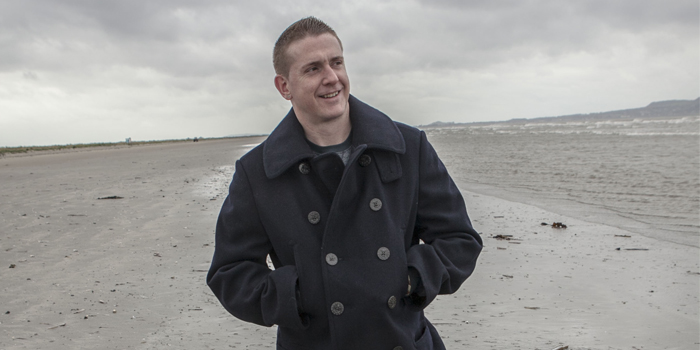 DAMIEN DEMPSEY
www.damiendempsey.com
Walk around Damien Dempsey's patch of Dublin's northside and the places and people are like ancient dolmens round his lyrics. Turn a corner near his family home and there still are the "factories, trains and houses" he sang about on Shots, albeit quieter now, and more subdued.
Tradesmen walk around mid-morning with rolled up tabloid newspapers under their arms. A generation lies idle in a community struggling to re-establish its identity and sense of self.
For Dempsey, people and place are King. His voice is Dublin yet wholly distinctive, almost clichéd to say it, but he is part of a rich bloodline of Irish singers from Luke Kelly to Ronnie Drew, Christy Moore to Andy Irvine. Their kin outside Ireland are Springsteen and Guthrie, Dylan and Marley.
In Almighty Love, Dempsey's sense of place reaches out beyond Donaghmede and North Bull Island, where he first performed in public as a teenager, across the Irish Sea and further afield.
The locale is still in the lyrics. It's there in the hauntingly poetical Chris and Stevie, a tribute to male bonding and grief. You can hear it in Canadian Geese - large migratory birds whose flight path took them past Dempsey's boyhood window. It's there also in the references to railway tracks and waves, visible from the rooftops of Dempsey's childhood home. Those railway tracks took Dempsey and his boyhood friends out into their own imaginations and he hasn't forgotten.
TUESDAY 18 FEBRUARY
THEKLA BRISTOL
The Grove, Bristol BS1 4RB
Doors 7:30pm
Ages 18+
Advance tickets available from:
www.alt-tickets.co.uk
www.gigantic.com
Bristol Ticket Shop
0844 871 8819
Comments