The Thekla Archives: 2013
Angelic Upstarts, Thekla presents Angelic Upstarts: 18+ EVENT
Saturday 21st December 2013
Supported by:

Crashed Out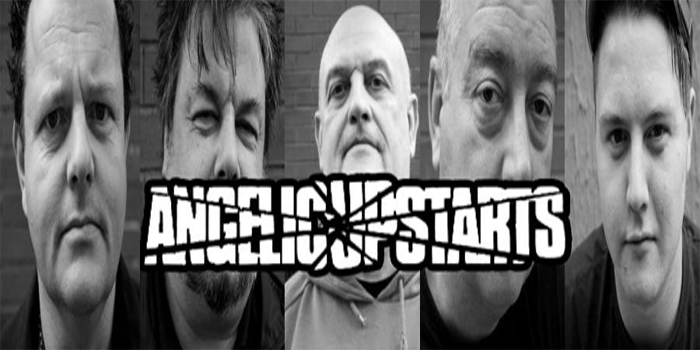 ANGELIC UPSTARTS
www.angelicupstarts.net
I'm an upstart
Hey whatcha gonna do
I'm an upstart
Listen I'm talking to you
Sham 69 and the Angelic Upstarts were the first UK punk bands that really dealt with specific working class issues in depth, rather than just on a generic level. Both of them have not had the recognition they truly deserve, Sham mainly because of Jimmy Pursey going off the rails, but the Upstarts? I, for one, do not understand how they have not received serious accolades now that punk's history has been heavily documented. Maybe they simply were just not "cool" enough for a lot of journalists and writers. For me though, they are up there with the best of them.
Formed on a South Shields council estate in 1977, the Upstarts soon attracted notoriety due to their aggressive music and uncompromising attitude. Their debut single "The Murder Of Liddle Towers" was self-released in 1978 and then picked up by Rough Trade and went on to sell many thousands of copies. It told the story of a boxing coach who was killed while in police custody and is one of the most incendiary punk 45s ever released. Even today it sounds incredible, dripping with anger, and its less than polished production being perfect. The B-side "Police Oppression" was also a brilliant track and singer Thomas "Mensi" Mensforth still gets harrassed from the police who have never forgiven him for these tunes.
Critical acclaim led the band to sign a major label deal and the release of their second single "I'm An Upstart". Once again this was a blistering piece of UK punk that hasn't lost its intensity over thirty years later. The band eventually received mainstream success with their third effort "Teenage Warning", which got them on Top Of The Pops and was to be their biggest hit.
Singer Mensi was never afraid to tackle issues that affected ordinary working class people, both at home and abroad. "Two Million Voices" dealt with rising unemployment, while "Last Night Another Soldier" described how working class youth who join the army become just cannon fodder for the ruling class. Other notable efforts included the moving "Solidarity" which expressed common cause with Polish workers and "Guns For The Afghan Rebels" was a cry of support for the mujahideen then fighting the Soviet invasion.
It is true that some of these tunes may sound a little naive when evaluated with the benefit of hindsight but Mensi always wore his heart on his sleeve and could never be accused of being a bandwagon jumper like so many punk figures who have received more acclaim in the history books than him. He has always stood for the small man fighting against oppression and this is what still drives him today. At the recent Leeds show, he announced from the stage that he has made mistakes in his life but he will always be a diehard anti-fascist for as long as he is alive. The band still play numerous anti-racist benefit concerts and help to support the plight of anti-fascist prisoners.
The Upstarts, like Sham 69, were plagued for a while with a small neo-nazi following but this has now come to an end after it was made clear that the fascists would be confronted physically if they continued to attend their concerts. How far-right boneheads could even think that the Upstarts shared the same grubby politics as them remains a mystery. One of the band's greatest sides is "I Understand" which was a classic reggae-punk crossover that dealt with the plight of the Rasta Richard Campbell, whose death in custody was another mysterious occurence.
Over thirty years after their greatest anthems were released, the songs of the Angelic Upstarts take on a new resonance in these times of global recession and rising unemployment, not to mention the UK continuing to be involved in imperial adventures overseas. These tunes are arguably far more relevant than anything The Clash or the Sex Pistols ever put out. The Upstarts might have lacked a certain level of finesse but their integrity was never in doubt.
My own personal Upstarts connection started when I was thirteen years old and teaching myself guitar by playing along to tracks like "Police Oppression". By the time I was fifteen in early 1981, my little band supported the Upstarts at our first ever concert. I remembered them being really friendly and supportive to us and, in particular, drummer Decca Wade giving our fourteen year old sticksman help and encouragement. We were crap on the night but the Upstarts were brilliant. Unfortunately, neo-nazi skinheads were in attendance and the gig tragically ended in serious violence.
Exactly thirty years on I am once again in the company of Mensi although he is the only surviving member of the band. It is easy to be sceptical about the changing line-ups of classic bands so many years later but the guys playing as the Upstarts right now are a tough, sturdy unit. The dual guitars of Dickie Hammond (from Leatherface) and Neil Newton work together beautifully; former Red London member Gaz Stoker is solid on bass; and young Jonnie Halling from Crashed Out is beat-perfect on the drum kit. Their set in Leeds was as tough as could be expected with pretty much all of their classics given an airing. The sauna-like conditions in the venue were hard to bear though!
Support from:
CRASHED OUT
www.crashed-out.co.uk
SATURDAY 21 DECEMBER
THEKLA BRISTOL
The Grove, Bristol BS1 4RB
Doors 7.00pm
Ages 18+
Advance tickets available from:
www.alt-tickets.co.uk
www.gigantic.com
Bristol Ticket Shop
0844 871 8819
Comments