The Thekla Archives: 2014
Lauren Aquilina, Thekla presents Lauren Aquilina: 14+ EVENT
Sunday 23rd February 2014
Supported by:

Benedict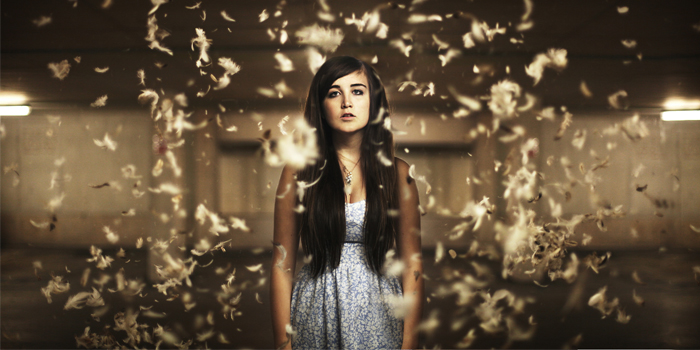 LAUREN AQUILINA
www.laurenaquilina.co.uk
Bristol-born Lauren Aquilina, is a songstress armed with melancholic piano-driven melodies, propelled by her formidable lyrical ability, all delivered with an overwhelming honesty. Singing as soon as she could speak, writing songs since the age of five and playing the piano since the age of seven, music is all Lauren has ever wanted to pursue. Citing influences from artists including Bon Iver, Coldplay and Blondie, all of whom featured on heavy rotation on the family car stereo. "It's such a cliché but music literally is everything to me. Growing up I used it as a great way to express myself and it was my way of unleashing the bundles of energy I had at that age like most kids do". Lauren soon found an outlet for expression in writing poetry. One day after finishing primary school she found the courage to knock on her neighbour's door and asked whether she could play their piano, the visits to play on the out-of-tune instrument became regular, returning on a daily basis to practice putting melodies to the lyrics she'd written. It's hard to believe that such raw, deep emotion can be expressed so exquisitely by someone who has to juggle recording with schoolwork. Lauren's pop-tinged songs referencing loves lost and memories made are sure to resonate with all who hear them. Tracks such as the breath-taking piano-led ballad 'Wonder' demonstrate a raw song-writing talent. The fiery 'Fools' fuses tales of heartbreak set against a backdrop of beautifully delivered pop mastery.
BENEDICT
www.benedictmusicofficial.com
Born and bred in Bishop's Stortford, Herfordshire, Benedict was one of four musical siblings. He first tried the trumpet at age 7, then the piano at age 8 and then began hollering at age 9 in the local choir. Fast forward ten years and Benedict moved to London at the age of 18 to soak up the sights and sounds of the big city. After being tipped by MTV Brand New For 2012 in January as a name to watch out for, Benedict continued work on a musical career that has already experienced some exceptional highlights.
Benedict began working with experienced co-writers and producers including Juan Luis Ayala, Oyvind Aamli and Chris Lawson Jones at the tender age of 15, learning the craft of songwriting and collaboration. After over 2 years locked away in studios across London, Benedict released his first four-track EP 'Glory Days' on Big Label Records in April 2012 featuring just piano, vocals and a string quartet. The release of 'Glory Days' led to some incredible opportunities for Benedict including support slots for Mystery Jets and Karima Francis, collaborations with SBTV (Jamal Edwards simply called him 'dope') and performances at The Royal Albert Hall, Shepherd's Bush Empire and at The Queen's Diamond Jubilee Pageant at Windsor Castle. 2012 also included performances on Channel 4, ITV and BBC Introducing Radio.
After a rollercoaster few months, Benedict went back into the studio to work on his follow-up EP 'Another Way' which was recorded over a week in a church in July, mixed by producer Dan Weeks in August/September, mastered at the world famous Abbey Road Recording Studios in October and then released in November. During the release of 'Another Way', Benedict had already begun work on his third EP of the series and from the sounds booming from the studio, it suggests the best is yet to come.
SUNDAY 23 FEBRUARY
THEKLA BRISTOL
The Grove, Bristol BS1 4RB
Doors 7:30pm
14+
Advance tickets available from:
www.alt-tickets.co.uk
www.gigantic.com
Bristol Ticket Shop
0844 871 8819
Comments