The Thekla Archives: 2013
Young Kato, Thekla presents Young Kato: 14+ EVENT
Saturday 16th November 2013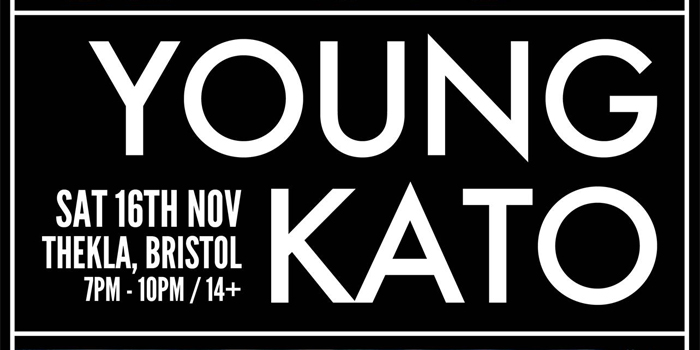 YOUNG KATO
www.youngkato.com
Having spent the entire first half of 2013 headlining shows across the UK in support of their debut single 'Something Real', recent BMG records and publishing signings Young Kato are now holed up in the recording studio working on their debut album with producer Dan Grech, who's previous work with Radiohead, Beck, The Vaccines, Howling Bells and Lana Del Rey has seen him become one of the hottest young producers in the UK if not the world.
The incredibly productive early recording sessions saw the band come flying out of the blocks and the young six piece from Cheltenham are about to deliver their most accomplished track to date in single 'Drink Dance Play', set for release on Oct 14th as part of the 'Drink Dance Play EP'. The EP also features the outstanding 'DDP Remixes' that are currently out at clubs across Europe and the UK with superbly crafted cuts from Nathan C, F U G Z and Chords.
Early adopters of Young Kato, both on record and live, may recall a demo version of 'Drink Dance Play' that featured on the self released, limited edition 'Young Kato EP'. Consequently, 'Drink Dance Play' is already a huge live favourite at the bands sold out shows, regularly bringing the house down as their set closer with fans singing along in epic fashion to the wall of sound they produce as the song continues to build.
Download 'Drink, Dance, Play' - http://smarturl.it/YKddpitunes
SATURDAY 16 NOVEMBER
THEKLA BRISTOL
The Grove, Bristol BS1 4RB
Doors 7:00pm
Ages 14+
Advance tickets available from:
www.alt-tickets.co.uk
www.gigantic.com
Bristol Ticket Shop
0844 871 8819
Comments