The Thekla Archives: 2013
Ady Suleiman, Thekla presents Ady Suleiman: 18+ EVENT
Friday 9th August 2013
Supported by:

Robin Mitchell / JJ Middleton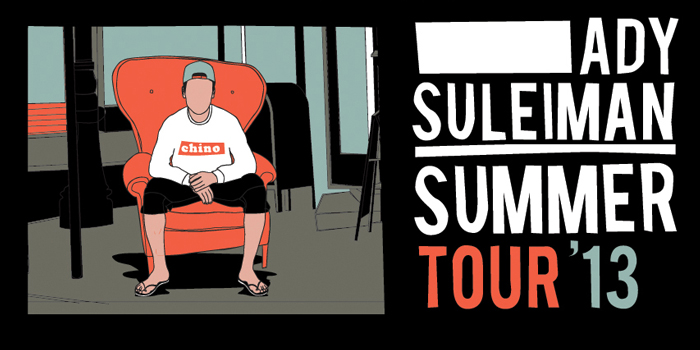 ADY SULEIMAN
www.facebook.com/adysuleimanmusic
Ady Suleiman comes to Thekla for a very special show outside on the front deck, with live music, DJs and a barbecue.
Ady Suleiman is a singer/songwriter from Nottingham based in Liverpool. He travels with his live band across the UK performing their own material as well as covers of famous hits. He combines a soulful tone with an added uniqueness that definitely has a way with the ladies. Ady Suleiman recently performed as an event called the Jazz Box which was featured on Ticket Mad in May.
Support from:
ROBIN MITCHELL
www.facebook.com/robinmitchellmusic
"A mysterious singer/songwriter & poet with a love for genre-blending, borrowing and stealing, Robin works under several different monikers, moulding melancholic chords in a secret basement studio...
Spreading his songs via cassette tapes [or free downloads], he charges desperate measures with delicious sweetness: Desperation has never sounded this delightful."
JJ Middleton
www.soundcloud.com/j-jmiddleton
HIPHOPPAPOTAMUS
www.soundcloud.com/hiphoppapotamus
FRIDAY 9 AUGUST
THEKLA FRONT DECK, BRISTOL
The Grove, Bristol BS1 4RB
Doors 6:00pm
Ages 18+
Free Entry
Comments