The Thekla Archives: 2014
The Boxer Rebellion, Thekla presents The Boxer Rebellion: 14+ EVENT
Thursday 6th February 2014
Supported by:

Foreign Affairs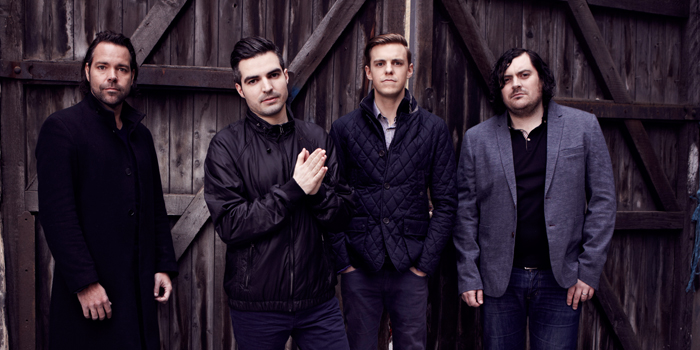 THE BOXER REBELLION
www.theboxerrebellion.com
"Arena-sized rock music, redolent of The Bends-era Radiohead and full of shimmering grace." Q ****
"A true monolith of self-belief and talent." The Fly ****
"Epic and impassioned. Songs of monumental quality." Kerrang
"Songs clearly designed to reduce stadia to rubble." Clash
"Dripping with achingly beautiful tunes." Artrocker
"If you're crying out for substance in music, The Boxer Rebellion are here to soothe your soul." Kerrang
"Flawless melodic escapism that plunges so deep it should come equipped with a bungie rope." The Fly Magazine
"Pathological noise-rush warfare. This band can alter your life." NME
In 2000, Nathan Nicholson left Tennessee, America after the death of his mother, and came to London. The band formed in 2001 through a chance meeting at London's 12 Bar Club between vocalist Nathan and guitarist Todd. This quickly cemented into a firm friendship which resulted in them living and writing together. College friends Adam and Piers, were soon intrigued, and completed the line-up. All shared common influences, and a passion for epic, escapist music - The Boxer Rebellion was born. The band subscribe to the perfectionist approach in making records; for TBR it has always been about creating albums that can be listened to from start to finish, that take you on a journey and let you escape the day-to-day mundanity. In the current climate of immediacy, and style over substance, The Boxer Rebellion prove that bands can still make albums that can be listened to long after those hogging the current spotlight have disappeared. The Boxer Rebellion have re-grouped and re-discovered what makes them tick. Recent, packed live performances in London show that TBR have amassed a solid fanbase, and one forgiving of the long waits between releases.
Support from:
FOREIGN AFFAIRS
www.facebook.com/foreignaffairsmusic
THURSDAY 6 FEBRUARY
THEKLA BRISTOL
The Grove, Bristol BS1 4RB
Doors 7:00pm
Ages 14+
Advance tickets available from:
www.alt-tickets.co.uk
www.gigantic.com
Bristol Ticket Shop
0844 871 881
Comments