The Thekla Archives: 2013
Broken Hands, Thekla presents Broken Hands: 14+ EVENT
Wednesday 18th September 2013
Supported by:

Storms / Port Erin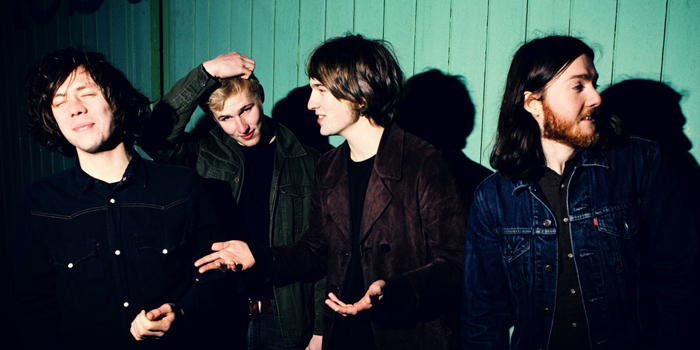 BROKEN HANDS
www.brokenhands.co.uk
Barely out of their teens, these boys are ardent students of rock's evolution, their cultivation of psychedelic rock, garage and blues influences has gathered them shows and festival dates up and down the country. But residing in the picturesque but relatively muted Canterbury in Kent, Broken Hands felt the need to start something of their very own. 'Hoochie Coochie' events found them hosting their own shows at an old working men's club as well as providing an invaluable community service for gig-starved local punters. These DIY shows placed the band on a rapid ascent, and earned them a slot opening Lounge On The Farm festival, which attracted admiration and interest from James Endeacott and Edwyn Collins. Who duly wacked out the bands first 7'. this was quickly followed by an invitation to join Band of Skulls on both UK and European tours.
The old basements and garages Broken Hands played are giving way to increasingly larger spaces, broadening their horizons and their sound. Last summer found them navigating the country with a number of festival dates and even a return to Lounge On The Farm that was greeted with a special homecoming fervour.
The new EP 'Down By The Current' represents another step up for Broken Hands. This is a lean and muscular output. Exactly what they need to precede a British Summertime show with The Rolling Stones in Hyde Park. No doubt in a few decades' time - when they're road-weary, weather-beaten and all sporting bizarrely long fingernails – Darby, Ford and the Norton brothers will look back on this period and wonder whatever happened to those wide-eyed young dreamers.
Support from:
STORMS
www.stormsband.com
PORT ERIN
www.facebook.com/porterinmusic
WEDNESDAY 18 SEPTEMBER
THEKLA BRISTOL
The Grove, Bristol BS1 4RB
Doors 7:00pm
Ages 14+
Tickets £6.00 advance
www.alt-tickets.co.uk
Bristol Ticket Shop
& all other good ticket outlets
Comments