The Thekla Archives: 2013
Hip Hop Shakespeare presents: Richard II Live feat: Bashy + Akala, Thekla presents Hip Hop Shakespeare presents: Richard II Live feat: Bashy + Akala: 14+ EVENT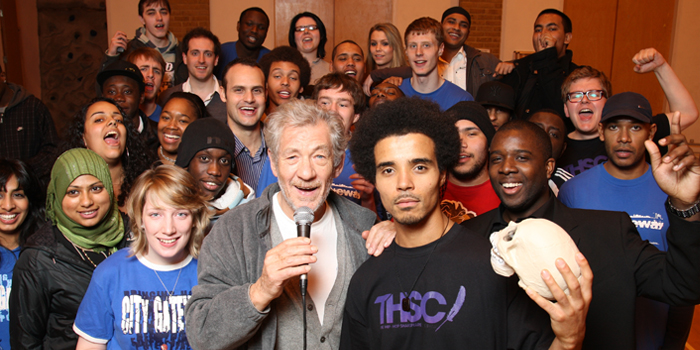 Hip Hop Shakespeare presents: Richard II Live tour
www.hiphopshakespeare.com
Featuring:
AKALA
BASHY
LADY LESHURR
JOSH OSHO
--------------------------------------------------------------------------------------------------------------------------------
BASHY
www.bashy.com
Bashy (real name Ashley Thomas) is a MC from North West London, who makes grime music but is also known for vocalling hip hop beats. He was a member of the Special Delivery crew, who had a regular set on the pirate radio station Freeze FM. He made his name through his clashing ability, with his direct and comical punch-lines causing problems for other MCs, including Demon on Lord Of The Mics 2, and Ghetto. One of his biggest hits to date is 'Black Boys', which was released in October 2007.
Still only twenty three years old BASHY made a phenomenal impact, sparking a avalanche of interest and enthusiasm that's steadily and somewhat vigorously begun to break down the doors of the mainstream media and industry at large.
Without the support of any major label and strictly through independent means BASHY has managed to capture the imagination of the nations youth in a relatively short space of time. In the last eighteen months he's gone from driving a bus to becoming the face and voice of a generation.
AKALA
www.akalamusic.com
Over the last few years Kingslee 'Akala' Daley, 26, has emerged from London's hip hop underground and into the mainstream as one of the leaders of a new British artistic renaissance.
Bursting into the underground scene in 2004, he made history by being the first unsigned artist to have a video appear on MTV UK's 'TRL'. 2006 saw his first album 'It's Not A Rumour' drop with trance-sampling smash single 'Shakespeare' being play-listed and championed on BBC's Radio 1 via the support of influential DJ, Zane Lowe. The album received critical acclaim and earned Akala the 'Best Hip Hop Artist' award at the 2006 MOBO awards, beating out Kanye West. Reflecting the disorder and flux of contemporary life, Akala's second album 'Freedom Lasso' was an energetic visionary essay on modern life, drawing influences from the whole spectrum of music – rap, rock, electro, punk and folk. Summer 2010 see's Akala return, poised to flip-turn the UK music scene once again with his third LP "Doublethink".
+ more special guests TBC
TUESDAY 1 OCTOBER
THEKLA BRISTOL
The Grove, Bristol BS1 4RB
Doors 6:30pm
Ages: 14+
Tickets £10.00 advance
www.alt-tickets.co.uk
Bristol Ticket Shop
& other good ticketing outlets
Comments