The Thekla Archives: 2013
Emily's Army, Thekla Top Deck presents Emily's Army: 14+ EVENT
Tuesday 16th July 2013
Supported by:

Smile, Look Alive!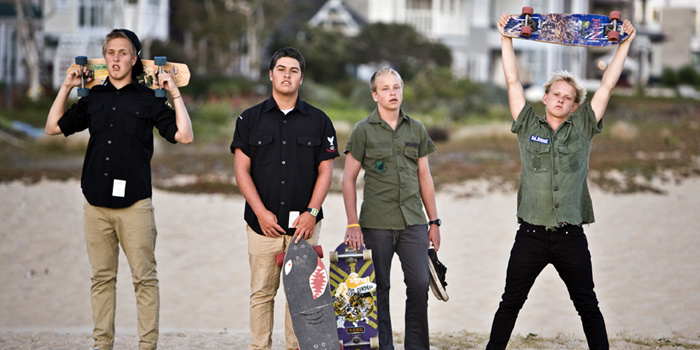 EMILY'S ARMY
www.facebook.com/EmilysArmy
"Don't Be a Dick!" Words of wisdom from the mouth of new teenage pop punk band Emily's Army. Influenced by the rich East Bay music scene, Gilman Street, classic power pop, and garage rock, Emily's Army craft heartfelt teenage anthems dealing in cautionary tales, politics, and the pressures of adolescence.
The band members have known each other for most of their lives and discovered their passion for music together. From four-year olds hitting piñatas to little league baseball to surfing to collecting punk rock records; Max, Cole, and Joey formed the band in 2004 as Raining Souls. The name didn't stick but it wasn't long before inspiration arrived for one that would. Brothers Max and Cole's 15-year-old cousin Emily was diagnosed with Cystic Fibrosis in 1998 and has suffered from the disease her entire life. In tribute, the band adopted the name Emily's Army, which also happens to be the moniker for a fundraising organization in their cousin's honor.
The prolific song-writing brothers Max and Cole Becker write songs and play guitar as if it was attached to them at birth. Travis, who joined the band in 2009, brings forth a guitar swagger that compliments the Becker boys and can serve as an anchor to the tumultuous brotherhood of the band. Joey hammers the drums with such energy; you'll rarely find him sitting on his drum stool.
Support from:

SMILE, LOOK ALIVE!
www.facebook.com/smilelookaliveuk
TUESDAY 16 JULY
THEKLA TOP DECK
The Grove, Bristol BS1 4RB
Doors 7.00pm
Ages 14+
Tickets £6.00 advance
www.alt-tickets.co.uk
Bristol Ticket Shop
& other good ticket outlets
Comments