The Thekla Archives: 2013
Tribes, Thekla presents Tribes: 14+ Event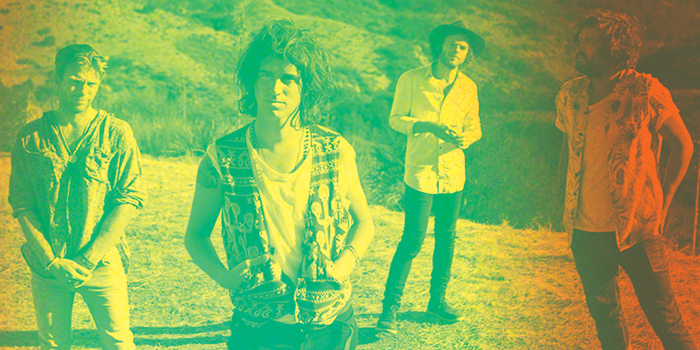 TRIBES
www.tribesband.com
When you've clawed your way - secret gig by word-of-mouth demo-swap by rooftop video shoot - out of the North London underground rock scene, survived homelessness and recording your debut album while living in a van in the car park of a Liverpool studio, seen that album hit the Top Twenty and garner impressive Album Of The Year rankings, sold out the Shepherd's Bush Empire and made serious impact on the US college radio circuit, how would you celebrate? Easy. You'd hire a huge house in the Malibu hills while recording your second album 'Wish To Scream' in LA, record all day, party some nights and surf at dawn.
For seven weeks towards the end of 2012, while staying in an ex-rehab clinic in the hills above Malibu ("It was pretty cost effective to go out there, it was pretty much the same as going to Liverpool again, which was ridiculous"), Tribes jammed out their new songs for twelve hours a day, taking in contributions from visiting local legends such as Bob Dylan's organ player, Bowie's pianist, Greg Smith of The Eagles and Brenda Holloway's Motown gospel choir. "The whole thing was this open-door policy of people coming down and friends of the producer who'd play mandolin or piano," says Johnny. "We'd always be the core of guitar, bass and drums and people would just play around us. It was great, brilliant fun."
"I hope people can recognise us as a British band that's not going anywhere that can deliver albums quickly, that's what I want," says Johnny, and Dan agrees. "This feels like our first record as the band we wanted to be. There's a lot of clarity on it, real songwriting, With our ability to write songs now we feel pretty strong. We've started writing the third record already, we've got sketches here and there and it's all sounding good." You've come a long way, 'Baby'.
Plus special guests
TUESDAY 28 MAY
THEKLA BRISTOL
The Grove, Bristol BS1 4RB
Doors 7.00pm
Ages 14+
Tickets £12.50 advance
Comments