The Thekla Archives: 2013
Hit The Deck Festival 2013, Thekla presents Hit The Deck Festival 2013: 14+ EVENT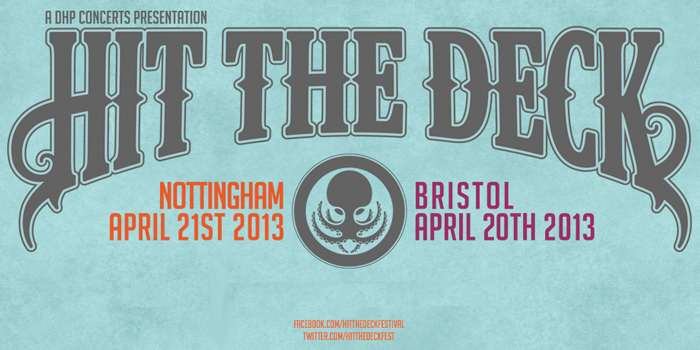 HIT THE DECK FESTIVAL 2013 - BRISTOL
Hit The Deck comes to Bristol for the first time, following a number of successful, sell-out years in Nottingham!
▬▬▬▬▬▬▬▬▬▬▬▬▬▬▬▬▬▬▬▬▬▬▬▬▬▬▬▬
Current line up:
Don Broco
We Are The In Crowd
Never Shout Never
We Are The Ocean
Bleeding Through
Pure Love
Mallory Knox
Title Fight
Cantebury
Attack Attack! (US)
Army Of Freshmen
Attention Thieves
Black Dogs
Blackeye
Bleed From Within
Bossk
Dead End Path
Decade
Dingus Khan
Empress
Evarose
Fearless Vampire Killers
Feed The Rhino
The Front Bottoms
Gnarwolves
Great Cynics
Hand Of Mercy
Heart Of A Coward
Idiom
The James Cleaver Quintet
Landscapes
Max Raptor
Maybeshewill
Natives
Rolo Tomassi
Run From Robots
Show It Off
Silent Screams
Sonic Boom Six
Summerlin
This Or The Apocalypse
Whirr
+ Lots more TBC
▬▬▬▬▬▬▬▬▬▬▬▬▬▬▬▬▬▬▬▬▬▬▬▬▬▬▬▬
O2 Academy 1 and 2 / Thekla / The Fleece / Exchange
Saturday 20th April 2013
Doors 12pm
Ages 14+
▄▄▄▄▄▄▄▄▄▄▄▄▄▄▄▄▄▄▄▄▄▄▄▄▄▄▄▄▄▄▄▄▄▄▄▄▄▄▄▄
TICKETS ON SALE NOW: www.bit.ly/htdtix
£20+bf Standard ticket (14+)
£25+bf Standard ticket + Aftershow (18+)
Also available from Bristol Ticket Shop, www.gigantic.com and all good ticket vendors.
More local outlets to be added soon...
▄▄▄▄▄▄▄▄▄▄▄▄▄▄▄▄▄▄▄▄▄▄▄▄▄▄▄▄▄▄▄▄▄▄▄▄▄▄▄▄
www.hitthedeckfestival.com
www.facebook.com/hitthedeckfestival
www.twitter.com/hitthedeckfest
▄▄▄▄▄▄▄▄▄▄▄▄▄▄▄▄▄▄▄▄▄▄▄▄▄▄▄▄▄▄▄▄▄▄▄▄▄▄▄▄
Hit The Deck takes place across four venues in Nottingham – Rock City, The Rescue Rooms, Steath, and the Forum – on Sunday April 21st 2013, and in Bristol at the O2 Academy, The Thekla, The Fleece and The Exchange, on Saturday April 20th 2013.
Wristband Exchange
You'll be able to exchange your ticket for a festival wristband from 10am at Rock City in Nottingham and at The Thekla in Bristol. Hit The Deck starts at 12pm but we advise you to collect your wristband early to avoid long queuing times!
Please note: you will not be able to gain entry to other venues without having collected your wristband first.
Room Capacity
Each stage has a specific capacity and when this is reached entry to that stage will be limited, so if you are wanting to see a specific band please arrive early so you don't miss out!
Underage Drinking
Hit The Deck operates a no tolerance policy on underage drinking. If anyone under the age of 18 is found drinking alcohol or attempting to purchase alcohol, or if anyone over the age of 18 is found to be obtaining alcohol for anyone underage they will be removed from the festival and have their wristband confiscated.
Comments