DHP FAMILY PRESENTS PUMAROSA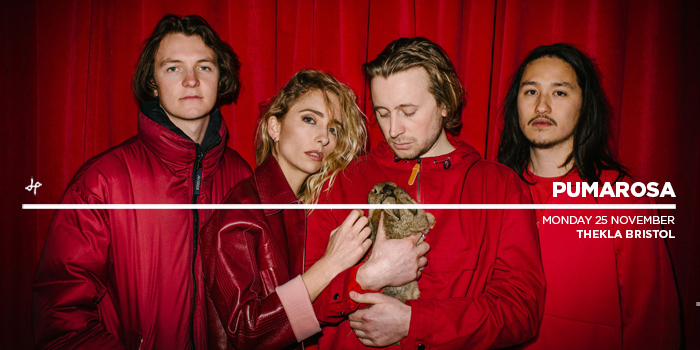 Pumarosa's early existence has been defined by strange, distinctly different spaces. There's the half-knocked down house in Peckham they played, where the band carried on performing despite a gas leak and an electricity shut down. A packed-out crowd watched through gaps in the walls and the landlords swore after they'd never allow a band to play there ever again. There's also the old Italian cinema they were invited to write and record in by a local surrealist, early songs being developed in the company of dramatic clifftops on the Calabrian coast, local villagers coming to the cinema to witness night-time improvisation sessions. And there's the Streatham studio of eccentric producer Dan Carey (Kate Tempest, Bat For Lashes, TOY), the place where their debut album is beginning to take shape.
Live, they give the impression of a band with decades of experience playing together. Strange spaces again play a part, whether it's a stirring gig at Shakespeare's Globe, or one of the warehouse parties they played in their early days. It doesn't matter where the stage is – Pumarosa know how to make their mark. Commanding from the front, Isabel Muñoz-Newsome throws shapes and bends notes with the same spirit, always finding new places for the band's music to explore. Bassist Henry Brown and drummer Nicholas Owen seem to share a natural instinct as the rhythm section, while guitarist Jamie Neville and multi-instrumentalist Tomoya Sukuzi explore their own worlds. The latter splits duties between the saxophone, keys, and distorting Isabel's vocals into strange abstractions. Everyone has their own distinct role, and it's incredible to watch unfold.
It's two years since Pumarosa formed, but you'd be forgiven for thinking they hadn't spent a day apart. Razor-sharp and accomplished, they play like they've rehearsed for years without pause. Isabel and Nicholas started the band by chance. A friend was eager to start a new music project and invited the two to come and play, but said friend never showed up. Instead, the pair were left to lay the foundations of what would become Pumarosa, and they then sought "serious" musicians, people willing to give up everything for music. "''Oh you've got a full-time job? Sorry, we're not interested!'" Nicholas jokes. They wanted to make a "solid band", Isabel says. "You'd usually get a group together and then people's lives would get in the way." But from the beginning, the stars aligned and everyone in Pumarosa was ready to commit.
THEKLA BRISTOL
MONDAY 25 NOVEMBER
The Grove, Bristol BS1 4RB
Doors 7:30pm
Ages 14+
Advance tickets available from: