Sunday 5th May 2019
Supported by:

Slonk, Indigos + More TBA

Doors open:

at 2:00pm
THEKLA 35: SŒUR, LEECHES, SANS, SLONK, INDIGOS + MORE TBA!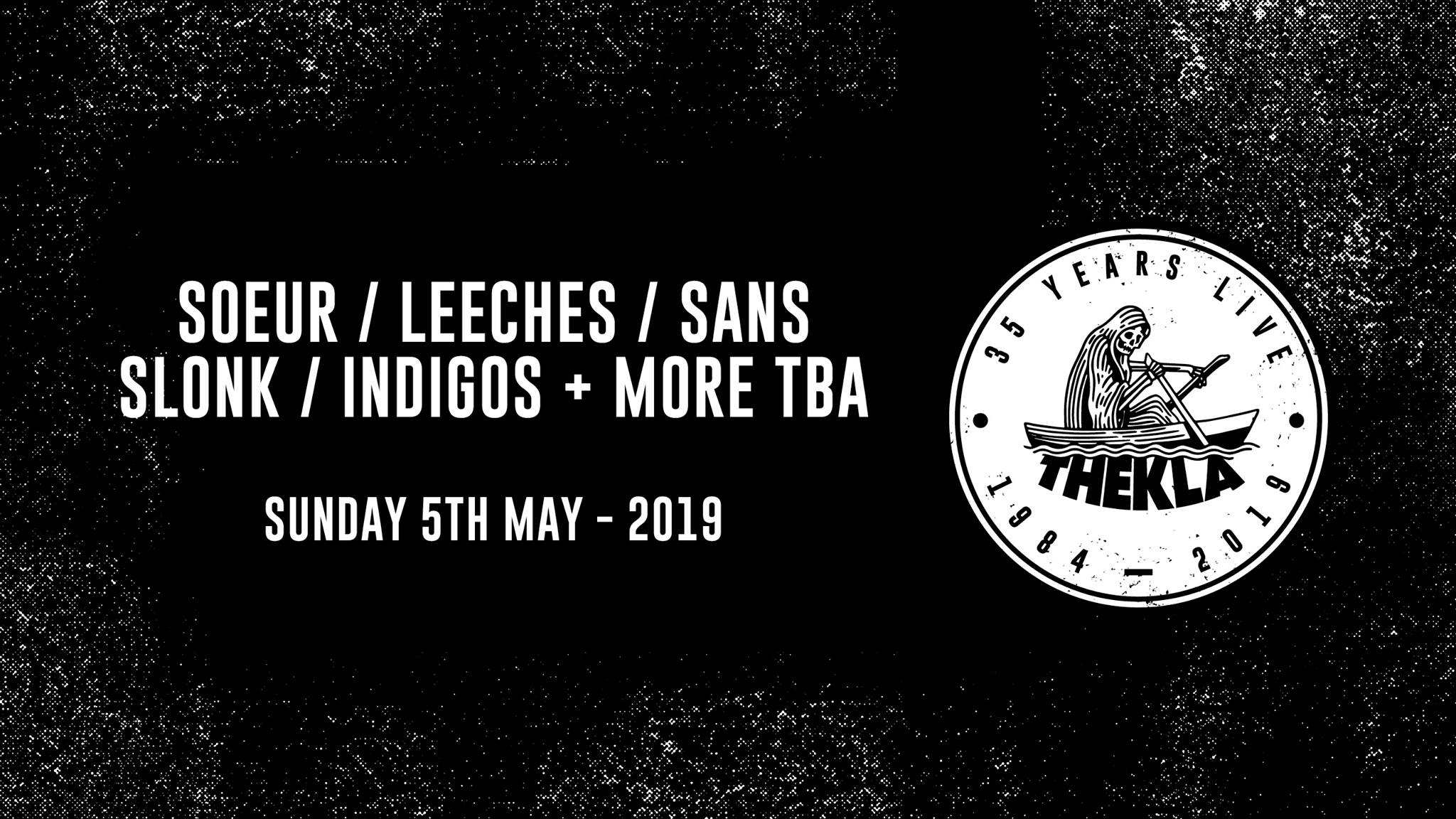 ⚓#THEKLA35 ⚓

Sœur
Breaking hard-rock down to its simplest, most fundamental form, Sœur are a brutal, soulful assault on the senses. Bound together and battle-hardened byan experience & appreciation of the fringes of British rock music, Anya Pulver, Tina Maynard & James Collins have already found their incendiary live shows selling out in dive bars and clubs across their native South West. With vocal lines that tangle & intertwine, riffs so substantial they'vegot their own post code, and a beat - provided by former Maybeshewill drummer James Collins - that ties everything down with industrial power, this is a sound of colossal proportions.

LEECHES
LEECHES are a bunch of desperate, bubbly individuals who've been hurt before and won't suffer fools gladly. Interests include embroidery, nights in by the fire, long walks and debauchery.

Formed in the depths of Dorset in the pre-summer haze of 2016,
LEECHES are bringing infectious pop hooks to fuzzy alt-rock - a match made in heaven some might say. Their debut EP, 'Strange Bonds' was released in early 2017 via Leisure Records to widespread critical acclaim, with the follow up EP 'WATUSI' seeing release less than a year later in the early moments of 2018. Both EP's represent is a trip through duo's thoughts and whimsy - mixing moments of tender reflection with pop hooks and psych-riffs.

SANS
Impossibly loud Bristol based three-piece. Plenty of huge, heavy riffs and crashing waves of audio treacle.

SLONK
SLONK is a musical project headed by Joe Sherrin - sometimes it involves acoustic emo wailing and sometimes it involves playing around with drum loops and thwacking pots, pans and cylindrical objects filled with rice.

INDIGOs
One of Bristol's most exciting new bands, with two recently released tracks that blend weird angular riffs of Kagoule, with the dreamy shoegaze of Slowdive, you'll need to see them live to hear more.
SUNDAY 05 MAY
THEKLA BRISTOL
The Grove, Bristol BS1 4RB
Doors 2:00pm
Ages 14+
Tickets available here: www.alttickets.com/thekla-35-tickets

A weekend of live & club events, celebrating 35 years of Thekla as a venue.

#THEKLA35