The Thekla Archives: 2019
William The Conqueror, DHP Presents: William The Conqueror
Wednesday 17th April 2019
Supported by:

Hum Fuzz
WILLIAM THE CONQUEROR - BLEEDING ON THE SOUNDTRACK TOUR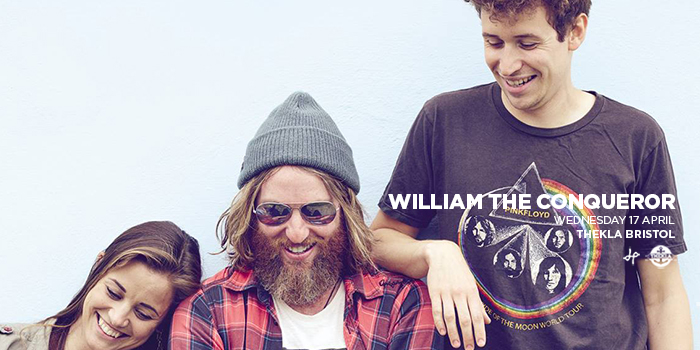 A character, a mythology, the flicker of a younger self, William the Conqueror is many things, but in simplest terms it is the name of a band put together by songwriter Ruarri Joseph, alongside his close musical conspirators Harry Harding (drums) and Naomi Holmes (bass) in the winter of 2015.
The trio have been picking up praise from far flung corners ever since Joseph took the step to go public with his erstwhile secret alter-ego. Debut album, Proud Disturber of the Peace, was released in 2017 to widespread critical acclaim, and their shows have been steadily winning over fans up and down the country.
The indie-rock three piece channel classic blues and roots through a grunge/indie filter, with diverse influences including The Doors, Ryan Adams and The Lemonheads.
Praised for their grit and authenticity by the likes of The Guardian and NPR's Ann Powers, they made their mark at AmericanaFest in Nashville, signing to Loose and sharing the stage at the UK Americana Awards 2017 with the likes of Van Morrison, Richard Thompson and Ethan Johns. Proud Disturber of the Peace was shortlisted for the 2018 UK Americana Awards "UK Album of the Year".
WEDNESDAY 17 APRIL

THEKLA BRISTOL
The Grove, Bristol BS1 4RB
Doors 7:00pm
Ages 14+

Advance tickets available from:
www.alttickets.com
www.gigantic.com
www.bristolticketshop.co.uk
Comments