The Thekla Archives: 2018
The Bad Flowers & Federal Charm, DHP Presents: Planet Rock Tour feat. The Bad Flowers & Federal Charm
Wednesday 19th September 2018
Supported by:

Those Damn Crows
PLANET ROCK TOUR FEAT. THE BAD FLOWERS & FEDERAL CHARM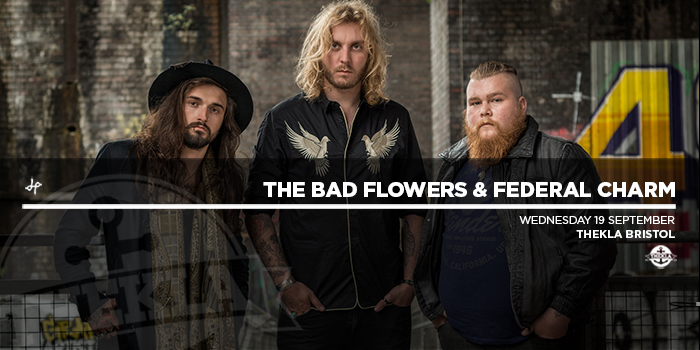 THE BAD FLOWERS
The Bad Flowers formed from the depths of The Black Country in 2014 comprised of Lead vocalist and guitarist, Tom Leighton, who's riffs, fuzz emotive guitar and pure vocals have distinctive sound unlike anybody else. Bassist, Dale Tonks, provides a deep heavy groove and tasty bass runs that under pin Karl Selickis' chest pumping drums and impeccable feel. The combination of the three makes The Bad Flowers a force to be reckoned with, forging a sound steeped in the raw, passionate energy of the Black country's 70's heroes but all the time keeping it in this century.

This combination of raw power, passion and nostalgia has created a sound that's is described as Thunderous Rock'n'Roll by there loyal fans and reviewers alike. You can be sure that every time this power trio hit a stage your in for a rollercoaster of riffs, solid grooves and choruses that will have you singing all the way home and forever more, they make sure you don't forget them in a hurry.
FEDERAL CHARM
Two acclaimed albums and numerous tours across the country with legends of the genre have led Federal Charm to become one of the most talked about rock bands on the scene. Picking up the sound of the 7os rock heyday with a dynamism that infuses a contemporary edge coupled with explosive live performances, the band has earned several accolades including a nomination by Planet Rock Radio for Best New Band.
WEDNESDAY 19 SEPTEMBER
THEKLA BRISTOL
The Grove, Bristol BS1 4RB
Doors 7:00pm
Ages 14+

Advance tickets available from:
www.alttickets.com
www.gigantic.com
www.bristolticketshop.co.uk
Comments