Thekla

award-winning live music venue and club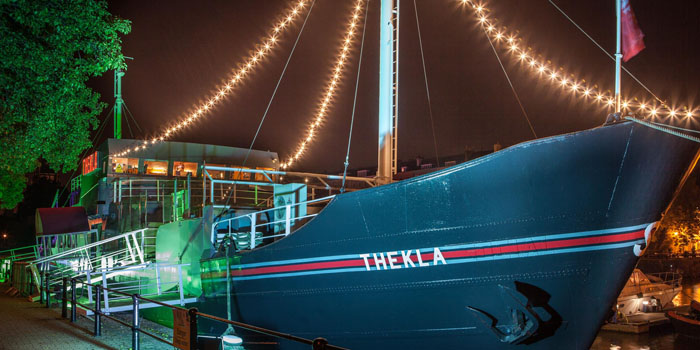 SUMMER GUIDE

We've got plenty of exciting acts boarding the ship this Summer; artists from the States, rockers from the Midlands and let's not forget the annual blowout that is Bristol Harbourside festival. There are still tickets available for the upcoming events, so make sure you don't miss out!
Words: Robyn Bainbridge
The Struts
This will be the tour that combines the gritty resilience of Britpop with the eccentric behaviourisms of 70's glam rock. Immersive, fun, and at time a little facetious, 'Everybody Wants' is an album with enough personality to be an entire compilation collection.
Filled with hook-laden, guitar heavy songs and wild, rolling vocals, The Struts' new album has already sold out big venues across the UK- and with a staggering following in America, the boys are only going to get better.


Bristol Harbour festival
Various musicians, performers and a collection of maritime events will descend upon the city this summer - with stages across Bristol, including Brunel's SS Great Britain and our very own Jazz quarter. The event will span the Friday until late on Sunday evening and Thekla will once again be co-hosting the musical side of it all, with an exciting line-up including headlining slots from Rozelle, Goan Dogs and She Makes War.


Lissie
Lissie's wandering folk pop has already gained her millions of YouTube views, and her singles have credited her with various titles including iTunes 'Song of the Year' and 'Best New Solo Artist'.
Her latest album, 'My Wild West' brings her to the UK, and to our very own ship- so catch her before she heads back out.


Frost*
This English prog rock supergroup are going to be in our fair city at the end of July touring their latest album, 'Falling Satellites' including the distortion heavy 'Heartstrings'- with all those industrialised Nu Metal vibes, it promises to be an epic set.
The Tide
Coming for you upon a wave of hormones as colossal as their name suggests; next up-and-coming LA boy band, The Tide, will be aboard the boat this August. The band began as a secret project of The Vamps' in December 2014, and has since been signed to their record label, Steady Records. With a number of instant hits, including the March release, 'Young Love', you'll need to get down early to beat the hardcore fans to a front row spot.
Hopefully you'll find something on the boat that tickles your fancy this Summer. Don't forget you can buy tickets for all our events here: http://www.theklabristol.co.uk/tickets

Remember to check back for more exciting news about our gigs and events happening later this year.
Comments