Thekla

award-winning live music venue and club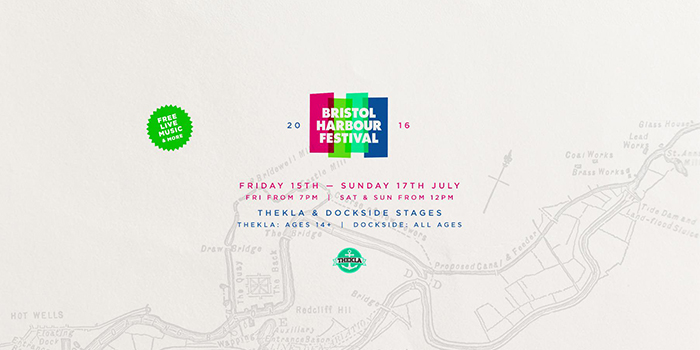 BRISTOL HARBOUR FESTIVAL
There's going to be a spectacular array of music hitting the Mud Docks next weekend for the Harbour Festival: Goan Dogs, Wasuremono, She Makes War and The Karma Repair Kit, to name but a few. With all the festivities happening across the weekend, we appreciate that you won't be able to be everywhere at once, but make sure you pop across to see some of the amazing bands we'll have over at Thekla.
Take a look below to see a little bit of information we've compiled on some of the acts, just to get you in the mood...
Words: Robyn Bainbridge
Goan Dogs
Dusty desert wranglers, the Goan Dogs, have built up quite a following over the past few years. Their distinctive sound of 'calypso sleaze', as the boys themselves coined it, is infamous on the Bristol music scene. An alluring combination of winking lights and infectious riffs never fail to hook a crowd, and we know their Headline slot on Friday night will be nothing less than phenomenal.
Make sure you get to see them kick the whole weekend off: Friday at 9.30pm on the Cargo Hold Stage.
She Makes War
Bringing you all the best that Bristol has to offer; this renowned gloom-pop, rock solo artist - Laura Kidd - will be closing the show on Saturday. Pretty much embedded amidst the icons of the South West music scene now, She Makes War knows how to capture a room with her versatility; sometimes the enveloping intimacy of Kidd and a ukulele, sometimes dark and surging guitar. If you still haven't seen her live, then this occasion gives you no excuse.
Saturday at 9.30pm: the Cargo Hold Stage.

Rozelle
The rapturous, atmospheric, electronic, rock team will be headlining our Saturday night slot – injecting the evening with their ascending synth, jarring bass and surging euphoric vocals. The Bristol band has a plethora of classics and new tracks- all as monumental and consuming as the next.
Look out for their hot-tipped new song, 'Crystallize'- 8pm, Saturday on the Dockside Stage.
Andy Oliveri
Channelling the tortured and pensive verses of Ryan Adams; and the bright, celestial jangles of Bronze medal; Andy Oliveri's folk songs are stripped back and minimal, allowing the emphasis to fall upon the stories encased in his lyrics. Expect those tangled, knotted guitar melodies from the man himself, and then some: Oliveri will be joined by the Mountaineers for his Bristol Harbour set. Together, Andy and the psychotropic bunch create a beautiful merge between folk and shoegaze.
Catch them on Saturday: 3pm on the Dockside Stage.
Beyond Rivers
Drifting, winding guitar work and melodies as soft and easy on the ears as the name suggests. The Saturday afternoon's slot of churning guitar riffs and tousled vocals will carry you away down the sunny banks (we hope!) of the Bristol harbour. The guys have a wealth of new tracks up their sleeves and are adding the finishing touches to their debut new album which is being produced by Stew Jackson (who is also currently producing Massive Attack's new album).
You'll be able to see them at 4pm on Saturday: the Dockside stage.
The Karma Repair Kit
Bristol-based grunge rockers will bear us into the frivolities of Saturday evening with their Pixie-esque sonics. They've done a pretty impressive circuit around Bristol venues recently, and their static of post-rock, psychedelic, shoegaze - which you'd usually find stirring up venues in Old Market - will be kicking off the festival at 7.30pm on Friday: the Cargo Hold Stage.
Imprints
Self professed as a 'folk, shanty, rock band'; the Imprints are based in Bristol, founded in 2011, and come armed with a violin. We're not sure you'll find a set more lively and vigorous throughout the whole weekend; Mother Brown herself certainly wouldn't be able to resist a good old knees-up to this lot.
They'll be hitting up the Dockside Stage at 4pm on Sunday afternoon; bringing you back to life after Saturday's inevitable antics.
Remember, the whole weekend is free and part of the exciting celebration that is Bristol Harbour Festival - so come along and have some fun! We look forward to seeing you all there.
Comments