Thekla

award-winning live music venue and club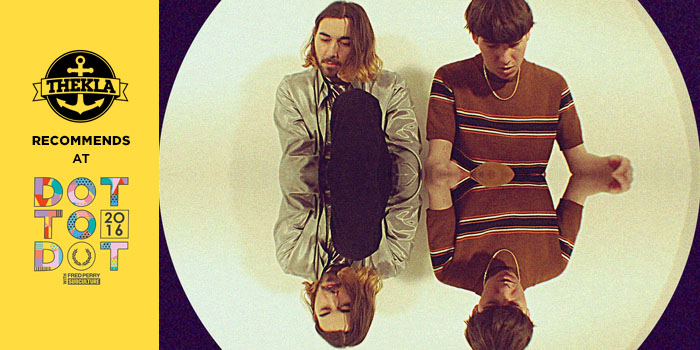 THEKLA RECOMMENDS AT DOT TO DOT 2016 #3
www.dottodotfestival.co.uk
BAD SOUNDS
www.facebook.com/realbadsounds
They've racked up a considerable following on SoundCloud, and whilst an ever-evolving sound has been the cause of much dispute, there's certainly an argument in favour of their infectious tone. Gracing Dot to Dot with a wealth of tracks, Bad Sounds come baring a fusion of British pop and electronic indie rock which perches somewhere on the fence between Everything Everything and Weezer.
Their music has been described as 'sassy' by some; 'groovy' by others- and newest hit, 'Avalanche', which has recently been played on Virgin Radio UK, sounds as though Django Django and the Klaxons came crashing together over a rendition of 'Atlantis to Interzone'. Somewhere near the other side of the spectrum: 'I Feel' wouldn't be out of place in an early 90s Blur album.
Bad Sounds may be a lesser known band, but that doesn't make them any less worthy of your time. Whatever the current consensus, you'll have to check them out yourself to make your mind up.
SATURDAY 28 MAY
Dot To Dot is back for its eleventh year in May 2016 and will be once again taking over venues across Manchester, Bristol and Nottingham for an unforgettable weekend of live music.

Previous Winner of 'Best Metropolitan Festival' at the UK Festival Awards, Dot To Dot Festival is established as the UKs premier festival for unearthing the hottest new talent around, alongside established acts from all over the globe.

Previous line-ups have featured the likes of Ed Sheeran, Ellie Goulding, Mumford & Sons, Florence & The Machine, Jake Bugg, Example, The xx, The Cribs, London Grammar, Saint Raymond, Tom Odell, The 1975, Swim Deep, Metronomy, Klaxons, The Horrors, British Sea Power, Dirty Pretty Things, Glasvegas, Wild Beasts, Friendly Fires, Marina & The Diamonds, Drenge, Peace, Catfish & The Bottlemen, Years & Years, Indiana, Slaves and many more.
www.dottodotfestival.co.uk
http://tinyurl.com/DotToDot2016
www.facebook.com/dottodotfestival
www.twitter.com/d2dbristol
www.instagram.com/d2dfest
#D2DFest
Comments