Thekla

award-winning live music venue and club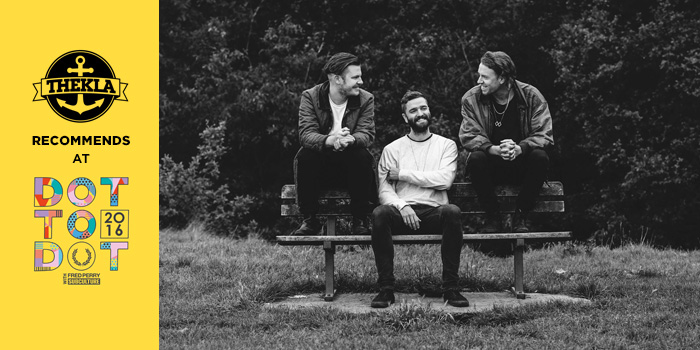 THEKLA RECOMMENDS AT DOT TO DOT 2016 #1
www.dottodotfestival.co.uk
MT. WOLF
www.mtwolfofficial.com
If you're in any way excited about the upcoming Sigor Rós gig at Bristol's Summer Series, it may well be worth you checking out three-piece London indie band, Mt. Wolf. They provide the perfect middle ground between Racing Glaciers and ALMA, but with that heavenly choral warbling intrinsic of those Icelandic post-rockers.
Since re-emerging as a three-man band after lead-singer, Sproule left, the boys exist as living proof that you have to fail in order to succeed. The focus on vocals is far less prominent, leaving their overall tone meditative and allowing them to centre themselves amidst culminating synth and entrancing guitar work.
After releasing their new EP 'Hex', in March, they've been on the receiving end of an endless stream of praise and recognition that will continue to carry them all the way to Bristol at the end of March.
SATURDAY 28 MAY
Dot To Dot is back for its eleventh year in May 2016 and will be once again taking over venues across Manchester, Bristol and Nottingham for an unforgettable weekend of live music.

Previous Winner of 'Best Metropolitan Festival' at the UK Festival Awards, Dot To Dot Festival is established as the UKs premier festival for unearthing the hottest new talent around, alongside established acts from all over the globe.

Previous line-ups have featured the likes of Ed Sheeran, Ellie Goulding, Mumford & Sons, Florence & The Machine, Jake Bugg, Example, The xx, The Cribs, London Grammar, Saint Raymond, Tom Odell, The 1975, Swim Deep, Metronomy, Klaxons, The Horrors, British Sea Power, Dirty Pretty Things, Glasvegas, Wild Beasts, Friendly Fires, Marina & The Diamonds, Drenge, Peace, Catfish & The Bottlemen, Years & Years, Indiana, Slaves and many more.
www.dottodotfestival.co.uk
http://tinyurl.com/DotToDot2016
www.facebook.com/dottodotfestival
www.twitter.com/d2dbristol
www.instagram.com/d2dfest
#D2DFest
Comments