Thekla

award-winning live music venue and club
WANTED: RESIDENT DJs

With lots of exciting new club events coming your way this September, we are looking for a whole bunch of new resident DJs to join the Thekla Crew!
Here are the different genres/event styles that need DJs:
~ guilty pleasures / pop anthems / maybe a tiny bit of cheese
~ disco / funk / soul / motown
~ party bangers / 90s dance / hip-hop / rnb
~ drum and bass / jungle
~ uk garage
If you are interested in covering any of the events above, please ensure that you are Bristol-based and then follow these very simple instructions and we will pass on your mixes to the relevant promoter:
1. Record & upload a mix of between 30 and 60 minutes in your chosen style(s) from those listed above.
2. Email a link to the mix (soundcloud/mixcloud preferred) along with your social media links (professional & personal please) to This email address is being protected from spambots. You need JavaScript enabled to view it.
Simple as that! Please tell all of your DJ pals!
WANTED: CLUB PHOTOGRAPHERS

With lots of exciting new club events coming your way this September, we are looking for new club photographers who are regularly available to work late nights and weekends!
All photography shifts are paid - experience is preferred, but not essential. Just send examples of your previous work (especially club event stuff, if you have it) with some info about yourself to: This email address is being protected from spambots. You need JavaScript enabled to view it.
Simple as that! Please share to all of your snap-happy pals!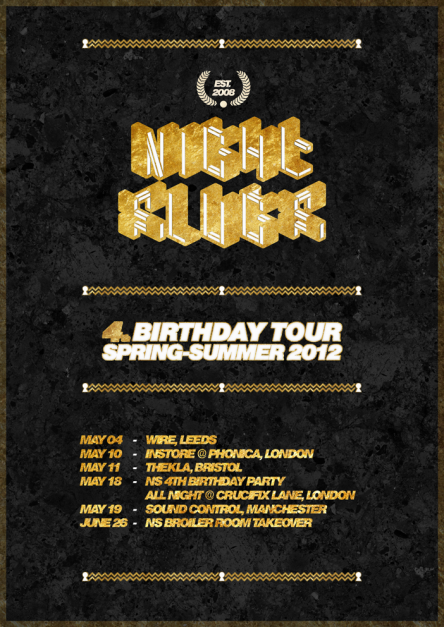 Since Bok Bok & L-Vis 1990 formed Night Slugs in 2008, the label has consistently blurred the boundaries between house, UK funky, grime and dubstep with releases from the likes of Mosca, Lil Silva and Pearson Sound as well as the two other guests for this night, Jam City & Girl Unit.
51º27' welcomes the Night Slugs crew on board the Thekla to celebrate the label's 4th birthday on Friday 11th May. Doors open at 10pm and - as always - there is a free guestlist available.
For more details, check out the 51º27' Facebook Page and Event:
www.facebook.com/fiftyone27
www.facebook.com/events/401467753211294/

This weekend is Easter, which means we have an extra couple of days without work, meaning more time for partying. Here's what's in store...

THURSDAY
PRESSURE
Bristol's best indie & alternative club night with 2 for 1 on all drinks, all night. To celebrate the beginning of summer (ahem), they're having a shorts party.
More info
FRIDAY
FIFTYONE27
Weekly purveyors of bass music, 51 bring a live set from Lapalux, guest Pedestrian and the residents to the Thekla, plus 1 Up on the top deck.
More info
SATURDAY
POP CONFESSIONAL
Weekly service of guilty pop pleasures in the main room, plus hip-hop classics and more on the top deck.
More info
SUNDAY
BROOKLYN ZOO
The UK debut of the hip-hop party starting club night, playing everything from A$AP to Xzibit. No meatheads, only vibes.
More info
x
When Sir Bob of Geldof sang (I use the term loosely) that he didn't like Mondays, he obviously had no idea what treats we have in store for you on Monday nights throughout May and June - how could he? The song was released years ago.
Lucky you for not living in the past! Here's the lowdown on those Monday events in May - click on the images for more information, ticket details etc.